I curled my toes into pink plush carpet and leaned against my bed. On the radio, Elizabeth Elliot began her radio program "Gateway to Joy."
"You are loved with an everlasting love. And underneath are the everlasting arms." As an awkward tween who often felt like an outsider, Elizabeth's opening words taken from Jeremiah 31:3 and Deuteronomy 33:27 refreshed my spirit.
For twelve minutes, I'd listen to her wise, mature words. Although her target audience was not 13-year old girls, her timeless teaching from Scripture sunk deep into my heart. Elizabeth made me feel like I belonged somewhere, that I had value, that I was loved.
One day, at the conclusion her broadcast, I sprawled on my bedroom floor staring at the ceiling and felt the stirring of God.
"This. This is what I want to do for You, God. I want to write. To speak. To share words like Elizabeth does that move people closer to you." It was a prayer, a vow even, that burned deep into my heart, into my very bones.
I never could have imagined that 28 years after that sacred moment of committing my life to serve Him, God would bring me full circle, right back to that moment.
For 28 years, I served God however I could –performing programs with my Dad using creative arts such as magic, juggling, and ventriloquism; high school missions trips; teaching backyard Bible clubs; serving as a children's leader for Bible Study Fellowship; storytelling for the kids ministry at my church. Wherever God opened a door to share His Word, I've followed Him.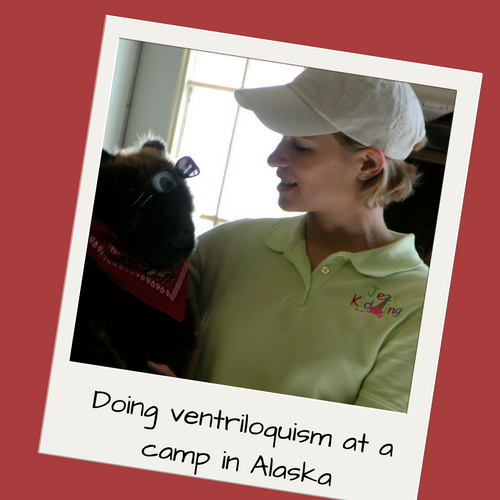 In 2003, when we moved to Florida, I started blogging as a way to keep in touch with family and friends. God used blogging to re-kindle my love for writing.
In 2009, we moved from Florida back to Grand Rapids, Michigan, and in 2010 I attended my first writers conference all by myself. I prayed no one would ask me what I wrote, because I had no idea. I felt so small in a sea of published writers. In true introvert fashion, I didn't want anyone to notice me. Thankfully, God ignored my plea and connected me with women who became dear friends that weekend.
A year later in 2011, I attended a conference for Christian speakers. I again prayed no one would ask about where I spoke, because I didn't yet. I wasn't even sure I could. But I knew I was supposed to be at that conference.
I again met women who became dear friends, including a woman who was my critique group leader named Cindy Bultema. I got brave enough to ask her a few questions and we became friends.
In 2015, GEMS Girls' Clubs contacted Cindy about a writing project. She didn't think the project was a good fit for her so she passed my name along. I loved working with GEMS and ended up doing several writing projects for them over the years, including guest editing their magazines when the editor was on maternity leave.
I've loved writing and speaking, serving wherever God opened the door. But over the past year, I've struggled.
For the past 3 years, I've also had a part-time day job with a local non-profit. I loved the work and my co-workers, and I grew and learned so much. My bosses and co-workers were supportive of my side gig as a writer and speaker. But burning the candle on both ends was exhausting.
Several weeks ago, I texted my prayer partner, "I think it's time to set writing and speaking down for awhile. It breaks my heart, but I am ok. I have no white space in my life, and I can't continue to work my day job, write and speak, and be there for my kids. Something has to give, and I think it's ministry since my day job helps pay the bills."
She texted back how much she understood, and wrote out a beautiful prayer of surrender asking God to show Himself and work to bring peace in my life in this tough decision.
A year ago, Cindy prayed to ask God what project she should take on next. He directed her to apply for the open Executive Director position at GEMS. She says she told God, "I was looking for a project, not a job!" But that job is where He wanted her.
Last fall, Cindy asked if I would again do some freelance work for GEMS, and I gladly accepted. We thought it was so amazing that we had the opportunity to work together for this organization we had both grown to love over the year. Oh how little we knew…
That same day I confessed my surrender to lay down writing and speaking Cindy called me with a different request.
Her managing editor had accepted another position. We talked for a short time, and I encouraged her God had a plan, that He had someone picked out for the position, and that the ministry work would continue. I was sure of it. After fifteen minutes of encouraging her, she said, "So, I have an editor position open. Would you be interested in applying?"
I had been so focused on encouraging my friend, I didn't even realize God was about to answer my surrender.
I was so in shock, I told her I'd have to think about it.
After a three-hour flurry of text messages to my husband, and a phone call to a mentor friend, I told her yes, I would definitely apply.
I updated and sent my resume to her that evening.
We met the next evening for an official interview. Within 30 hours of my text message of surrender, I had been hired as the new managing editor at GEMS. Cindy and I stared at each other wide-eyed, in shock of all that had transpired in such a short time.
As my 13-year-old often says, "I didn't see that one coming!"
God reminded me of the day on the floor of my pink bedroom 28 years ago when I committed my life to serving Him through writing and speaking and sharing His Word.
Now, not only do I have a thirteen year-old girl of my own, I get to write and manage magazines, web content, digital app content, and more for girls. Girls just like me who need to hear they are loved with an everlasting love. Girls, who in the solace of their bedrooms, reading a magazine or scrolling an app, might have the opportunity to say "yes" to God, to commit their whole lives to serving Him however He might ask.
I cry every time I think about it.
Only God could bring it full-circle like this.
I started the job last week, and I absolutely love it. Would you please pray for me, my family, and for GEMS during this season of transition? We know God loves young girls so much He sent His Son to die for them. Our mission is that every girl across the globe would meet Jesus Christ and know His love for her.
You can learn more about GEMS here. You can follow GEMS on Facebook, Instagram, and Twitter. If you have girls in your life, consider a magazine gift subscription! Sparkle is for girls grades 1-3, and SHINE brightly is for girls in grades 4-6.
Thank you for your faithful partnership in the Gospel. Thank you for how you have encouraged and prayed for me and my ministry of writing and speaking.
I'll still be writing here, and on my own Facebook, Twitter, and Instagram. After I've adjusted to the new job, I will still accept the occasional speaking engagement.
Thank you, thank you, thank you. You are loved with an everlasting love. And underneath are the everlasting arms.
If you are waiting for God to fulfill the desires of your heart, desires you are sure He has given you, I hope you find encouragement in this story. Keep following Him through every open door. As I look back over my life, I see how He has used every experience, even the ones I wondered about, or wasn't excited about. He will make a way for You, because He is the way. Keep following Him.
Photo credits: