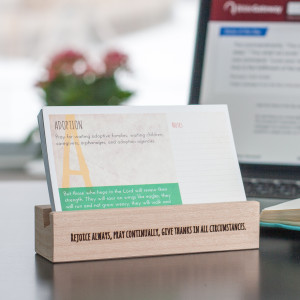 $15
Available in:

3X5 cards with Stand
http://www.prayatoz.com/
26 cards featuring prayer prompts, a verse, space to write prayer requests, and a written-out prayer on the reverse side. This set includes a custom made stand to hold the cards and keep them accessible and visible while sitting on your desk or kitchen counter.
*These make a nice companion to the new book Pray A to Z, which features 5 topics per letter.*
The A to Z prayer cards were designed to help you pray through the issues facing our communities today. As you read the verse and prayer prompt on each card, in the notes section write down names of people you know or organizations serving that population who could use your prayers. Two blank cards are included so you can add your own topics or as extra space to write down requests for certain topics.