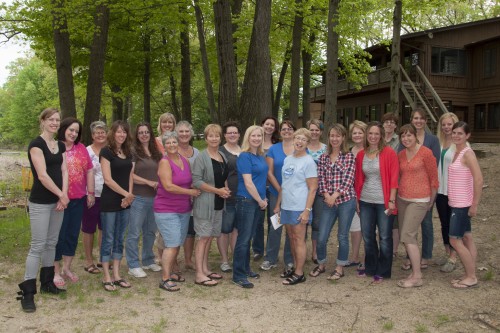 This past weekend I had the privilege of leading a retreat for an incredible group of women. We discussed being real and authentic in our relationships and how that starts with understanding who we are because of God's love for us.
I shared my own testimony of holding people at arm's length and hiding behind a cloak of perfectionism and control.  I listened as they shared their stories of names they have identified with over the years that were not positive or from God. I teared up with them as they revealed how God was freeing them and they were seeing their worth in a whole new light.
As the weekend came to a conclusion, they wanted to know how to go deeper with each other. How can we get past all the surface-y stuff that we tend to gravitate towards in our conversations with each other? They didn't want to go back to "Hi, how are you? Just fine," when they returned home.
We discussed having few questions to regularly ask each other, prompts that would help us stay real with each other.  Here are a few that I suggested:
What has God been teaching you lately?
What verse has stood out to you recently? What have you heard in a sermon that impacted you? How has God been directing you?
Where are you feeling stuck and are struggling?
Is there an area where you know you need to grow? Is there a temptation you are battling? Is there someone you need to forgive?
How can I help?
How can I pray? What can I do practically to help you see past this current rock of impossiblity? Remember to H.E.L.P – offer Honesty, Encouragement, Love and Prayer.
Do you have friendships that you are able to go deeper with? What do those conversations look like? How do you H.E.L.P. each other out?