I stand in the kitchen and stare out my back window into our small backyard. I see the worn, wooden back fence and leaves and walnuts covering the now-brown grass. In my imagination, however, I see a tiny oasis filled with color: spring tulips in a rainbow of colors, happy daffodils smiling at the sun, green grass, hostas filling the corners, and a shady spot to sit on a bench and read and pray.
We may be entering the gray season of winter, but I'm already envisioning and planning how I can turn my backyard into a sacred space next spring.
Today, New York Times and USA Today bestselling author Julie Cantrell shares how to create a prayer garden in your backyard. This is on my to-do list for spring as we continue to improve our little fixer-upper.
Create a Prayer Garden in Six Simple Steps
by Julie Cantrell
The idea of a Prayer Garden can be traced back thousands of years, when monks began establishing meditative areas around their monasteries. Today, many Catholic parishioners choose to pray in a Mary Garden, a landscaped area created around a statue of the Blessed Virgin, sometimes incorporating the Stations of the Cross.
Some hospitals incorporate Serenity Gardens, Prayer Gardens, or Meditation Gardens in their green spaces, inviting patients and their loved ones to seek comfort among the quiet blooms. Likewise, many spas and retreats offer Prayer Labyrinths or Meditation Gardens for their visitors.
Now, you can create this kind of spiritual space in your own backyard.
[tweetherder]Learn how to create a spiritual space in your own backyard from @JulieCantrell[/tweetherder]
How to Create a Prayer Garden?
There are no rules for making a Prayer Garden, but these six steps may simplify the process.
1. Select a space that offers the peace and quiet you seek during prayer or meditation. Be sure to include room for outdoor seating, unless you prefer to kneel, walk, or sit as you pray.
2. Incorporate a section in the shade and another in the sun, if possible. Then you can plant both shade-loving and sun-loving perennials.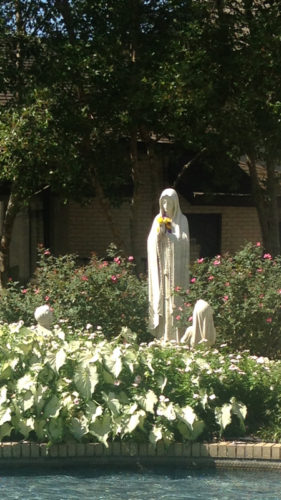 3. Create an area large enough to incorporate a specific focal point. Some opt for an icon of St. Francis, Mary, or Jesus, for example. Others may prefer a water feature, sizeable stone, or favorite flower. Whether a cross, chimes, or carved statue, the idea is to find something to focus your attention away from all your worries.
4. Follow basic gardening principals when preparing the beds. Remove all grass and weeds (including roots) from the garden area. Till the soil and mix in nutritious potting soil. Another alternative is to create a raised bed by constructing a frame above ground, or perhaps even a designating a section of patio pots or window boxes for gardeners with limited lawn space.
5. Choose plants that bring comfort. Avoid any unpleasant fragrances or allergy-triggers, and consider incorporating flowers that represent your faith. For example, Lilies can symbolize purity or rebirth. Bleeding Heart represents Mary's mourning as the mother of Christ. Many prayer gardens incorporate resurrection ferns, dogwood trees, and white roses. Herbs are also a popular choice, particularly rosemary and lavender.
6. Pay attention to the labels when you purchase your plants. Be sure to plant taller species in the rear of the garden (or in the center of a circular bed), with shorter plants along the front or perimeter. Follow spacing instructions and take note of the seasonal calendar to ensure year-round foliage and blooms throughout the garden.
[tweetherder]Prayer Gardens can offer a restful retreat. [/tweetherder]
They serve as a place for visitors to relax, recharge, and find rejuvenation. They also provide space for us to surround ourselves with the comfort of nature as we tune in to something bigger than ourselves. By creating such a place in your garden, you can treat yourself to a moment of peace each day, a basic gift that will do wonders for your soul.
Julie Cantrell is an award-winning New York Times and USA Today bestselling author, teacher, and speaker. She ran a small-scale sustainable family farm for six years in Oxford, MS. and strives to get her hands in the dirt each day. Perennials is her fourth novel. Learn more at www.juliecantrell.com and explore her Prayer Garden board at http://pinterest.com/juliecantrell
*Affilliate links used in post.
Header photo credit:
Annie Spratt
Verse photo credit:
Rami Khalil
All other photos provided by Julie Cantrell
Save
Save