*Be sure to enter the give away at the bottom of this post!
I took a deep breath to calm my nerves and ran a hand down the front of my blouse, checking for wrinkles. "Be professional, and don't act like a schoolgirl," I chanted to myself as I walked to the front of the room to fulfill a dream.
"Hi, my name is Amelia Rhodes. It's such a pleasure to meet you. I read your book Unleash the Writer Within
. You gave me the courage to write and be myself." I extended my hand Cecil Murphey.
He shook my hand and asked, "You read my book?"
And now I had another reason to admire him. After 128 books, including best sellers like Ben Carson Gifted Hands and 90 Days in Heaven, he still seem surprised that someone would read his book.
"I did! It encouraged me so much."
"Well…" He tilted his head to one side while a smirk crossed his face. "Aren't you just the sweetest thing ever!" Be still my heart!
I'd met my writing hero, and I hadn't embarrassed myself. Yet. That would come later as I sat through his four hour workshop on writing book proposals. After introducing myself, I helped him track down his copies for the workshop, and made sure he knew that I had to step out about halfway through the class to help with something else for a few minutes. (I was on staff for the conference, and didn't get to sit all the way through many workshops.)
"Aw, sure. Just get up and leave. Lots of people do," he replied. His sarcastic sense of humor just made him more endearing.
I switched the ringer on my iPhone to off, and then set an alarm for 2:27. I feared that I would get so caught up in the workshop that I would lose track of time and forget my appointment. I planned to slip out of the class quietly.
Note to self. Even though you turn the ringer off on an iPhone, if you set an alarm, it will still blare with the ferocity of a fire engine's siren. I nearly jumped out of my skin and quickly turned the alarm off as the blush crept up my neck.
"I'm so sorry. It's time for me to step out of for a few minutes."
"Well, why don't you just let us all know?" Cecil quipped. I was glad I knew ahead of time about his sarcasm. He continued the workshop. I headed to the door, which unfortunately was at the front of the room, behind the podium.
I pulled on the door handle. The door didn't move. The door was slightly cracked, but not enough for me to get through, and it would. not. move. I yanked the door again. Still nothing. I put my whole body into it. Still nothing. By now, a few members of the class started to snicker.  A woman whispered, "The doorstop is down."
I looked down at the metal doorstop attached to the door – the kind that you push down with your foot and then flick up to release the door. Looked simple enough. I flicked it with my foot. Nothing.
Finally, I got on all fours, in the front of the class — with Cecil Murphey continuing to lecture as if there was not a frazzled blonde woman making a complete scene right behind him — I figured out how to release the door and escape.
So much for not making a scene.
Two days later, while sitting (or hiding rather) in the back row for the Q&A session with all the conference staff, the first question was, "How do you stay humble?"
As for me? I'll never forget how I was the girl on all fours, trying to get out the door during Cecil Murphey's writing workshop.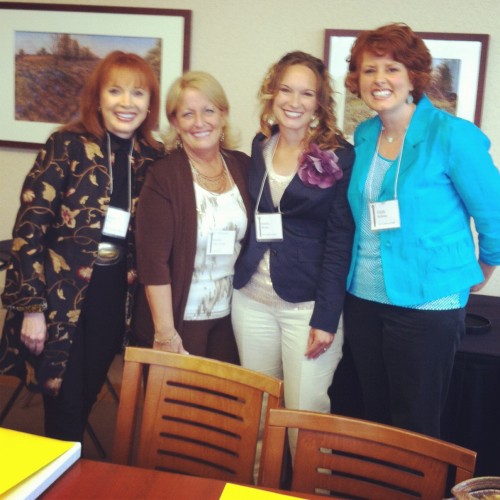 Other than embarrassing myself during the very first workshop (well, and losing the sole of my shoe later that day…) I had a wonderful experience at Carol Kent's Speak Up Conference this past weekend. It was an encouraging weekend filled with incredible workshops. My friend Cindy Bultema brought the Word on Saturday morning, and the girl can teach! The conference felt a bit like a family reunion as I had the chance to visit with speaker and writer friends from across the country that I don't often get to see.
Friday evening, I taught an advanced level Social Media workshop. The session didn't start until 8:45, and by that point in the weekend everyone was exhausted. I thought there would be half a dozen attendees. Much to my surprise, the room was packed with over 30 women (and Kedron who graciously came for moral support). No one left crying, and some of them were even smiling and looked excited – so that's a good sign, right?
I picked up a copy of Cecil Murphey's book Unleash the Writer Within
to give away. I read this book last December, while I was in the midst of writing my first book. I battled a mountain of self-doubt, and this book gave me the courage to be myself and pour my heart out on paper. Even if you aren't a writer, you will enjoy this book, because at the heart – it's about being the authentic you, giving yourself permission to be the REAL you. Enter on the form below!