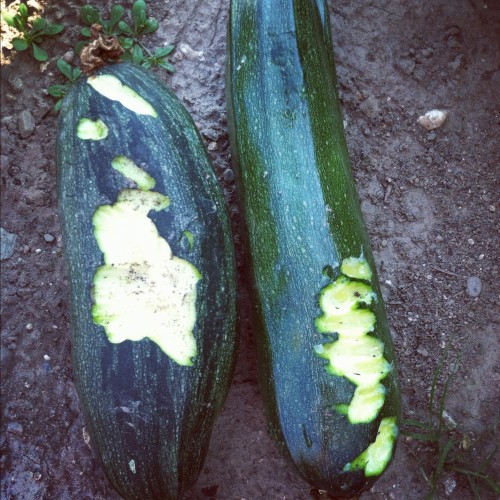 A couple days ago, I picked two zucchini from my garden that bore giant teeth-munch marks. The rodent had obviously returned. Greedy little monster apparently extended his buffet of green beans to include zucchini.
Of course, this time the hubby was gone all week on a business trip. So I texted him a picture of the evidence and asked him what I should do.
I might have also used a word in the text that I wouldn't use in front of the kids regarding where rodents belong.
I like to think I'm all independent and capable of handling things on my own, until he's gone. Then I realize it's a façade. Like the time he was out of state on a business trip while we lived in Florida. I heard a loud noise that shook the house late at night. I thought maybe a tree had fallen. Or someone was trying to tear the house apart. Because that's easier than just breaking in the front door. So I called him and he answered the phone half asleep. When I realized he was sleep talking and probably wouldn't even remember the conversation the next day, I called my dad. Because it's perfectly logical to call people who live 1,200 miles away when you hear a loud noise in the night and need help. Dad suggested I call someone who could actually help investigate. Like a neighbor. A couple days later, my Dad informed me that the night of my shake-the-house-scare, the space shuttle had returned to Florida, and what I heard was its return to the atmosphere.
So naturally, when I have a pesky problem like space shuttles shaking my house, or rodents in my garden, I call people who aren't local to ask what I should do.
Kedron saw my munched zucchini and texted back, "Try the live trap." The live trap. As in what I had suggested we try when the rodent problem first arrived and he said, "What would I do with it if I caught it?" That trap.
So I went into the garage and pulled out the rusty cage and spent twenty minutes examining it. Did I mention I'm not very good at figuring things out on my own? I text him again. "How does this work?"
My phone chimes his reply, "Latch on top."
Ten more minutes, and a few desperate prayers asking for help to figure it out before I need a tetanus shot, and I have it set. I march the trap out to the garden. The rodent obviously loves zucchini, so I toss the half-munched veggies in.
Last year, we had a rodent problem as well. I tried the live trap then too. In fact, the trap became a neighborhood project last summer when a couple neighbor kids decided to get in on the action. One little girl claimed that she had read a book at the library about what groundhogs like to eat. She and my daughter promptly made a concoction in the kitchen that consisted of peanut butter sprinkled with pepper and a side of lettuce. It didn't work. Imagine that.
I kind of hoped it wouldn't work this time either. Or at least not until Kedron was home again. What would I do with the furry beast if I did catch it?
The next morning the trap was empty. Later that evening, the kids went out to play in the backyard and, raced back inside shouting, "We caught the mole!!"
Oh no. Kedron didn't come home for another day. I slowly trudged out to the garden, and sure enough, there was a familiar little groundhog huddled in the trap with my munched up zucchini. It worked. Rats….er…groundhogs!
Naturally, I called a friend to ask what I should do. She suggested I call animal control. So I did.
"Animal Control, this is Emily."
"Hi, Emily. My name's Amelia. Um. I'm not really sure if I have the right place, but thought I would start here. Something was eating up my garden, so I set a live trap, and I caught a little groundhog. Now I don't know what to do with him?"
I heard a little chuckle on the other end. I guess groundhogs aren't the typical problem. "Well, you could bring him here to our office, and for a $20 charge we would put the animal to sleep." She paused, almost as if trying to compose herself, because really, I'm certain I sounded ridiculous.  "Or you could just take him for a little drive and release him somewhere in the country. That would be free."
I used to work in customer service. I know all about the mute button. Now would have been the perfect time to hit the mute button and have a giggling fit. Maybe even snort a little. The customer on the other end never knows.
"Oh right. So…uh…just put him in my trunk then?" I'm envisioning groundhog scat in my trunk and hoping I can find a tarp. Or garbage bags. Yes, those you can just throw away.
"Sure that would work," she replied. Again, perfect time to hit the mute button and dissolve into laughter.
"So…I'm headed to my in-laws tomorrow and they live out in the country. I guess I could do that. But what, um. What do I do with it tonight?"
"Well…" She paused long enough to surely hit the mute button again and re-gain her composure. "I suppose you could put some food in the cage, if you are inclined to do that."
"Oh, he's already got my zucchini in there!"
"So I imagine he's pretty happy then."
Seriously. I'm sure I gave this gal something really great to talk about over dinner, so much more exciting than the run-of-the-mill "I don't want my cat anymore" phone calls.
I finally let the poor gal go. And then I called my sister-in-law.
"Hey, sis. So…uh…will you guys be around tomorrow?"
"Yeah, want to go swimming?"
"Yes, and…well remember that groundhog I told you about that's been eating my zucchini? I caught him."
"Oh that's great!"
"Well, except for Kedron's still gone. Will your hubby be able to uh…help me out if I bring it tomorrow?"
That's my code for "I'm a city girl and I don't deal with wildlife."
"I'm sure he can. I'll warn him."
"Thanks, sis. I'll see you in the morning."
A groundhog in my trunk for forty-five minutes.
To be continued…..