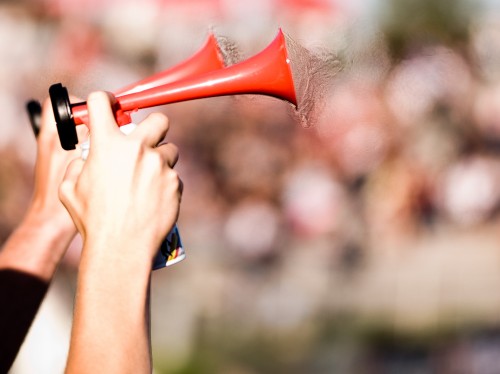 During a stressful life season a few years back, I had a dream so vivid with a message so strong, I've never forgotten it.
I walked into a familiar church building for a service. As soon as I passed through the front doors, I heard music thumping through the sound system. As I entered the sanctuary, the music was so loud, my chest ached and my ears felt like they might bleed. My body vibrated with every note, and it took all my focus just to walk.

I went to the sound booth to ask if they could turn the sound down a little bit before we all went deaf. The men ignored me, as if I didn't even exist.

Perplexed, I looked around and realized no one else seemed bothered by the extreme noise pumping through the sound system. Every person sat in the room waiting for the meeting to begin, as if it was perfectly normal to sit in a room so loud your body hurt and you couldn't think.

Then I realized, this was intentional. The purpose of turning the volume up so loud was so that no one could think for himself. Whoever was behind this didn't want us to hear that Voice inside us that is often small, still, quiet and holy.

I rushed to the platform and  grabbed a microphone to try to warn the people that they were being duped, to warn them that if they continued to just sit there in the middle of all that noise they might turn deaf to the Voice.

The men in the sound booth just kept turning the noise up louder and louder.
I woke up in a cold sweat.
Noise. It's everywhere. I fall asleep to the droning of a fan. I sit down to write and the refrigerator kicks on and the air conditioning hums. Two dogs engage in a barking match. Even my own ears ring.
I try to focus, try to listen, try to be silent.
[tweetherder]Maybe "silence is golden" because it's so rare.[/tweetherder]
Noise is in over-supply. Not just noise from our physical surroundings. Tweets. Timeline posts. E-mails. Spam. Political phone calls (still spam), Television. Radio. It seems that something is always "on." Someone is always telling us what we should think. What we should believe. How we should spend our money. How we should spend our time.
But who is it that we are listening to? Who's behind all this noise? When did we become so accustomed to it?
Whenever the power goes out, I realize just how uncomfortable silence can be. Disturbing even. Eerie. Sometimes, I clear my throat just to make sure my ears still work.
T.S. Eliot wrote in "Choruses from the Rock" about what we lose in a life of constant motion and speech (emphasis mine):
The endless cycle of idea and action,
Endless invention, endless experiment,
Brings knowledge of motion, but not of stillness;
[tweetherder]Knowledge of speech, but not of silence;
Knowledge of words, and ignorance of the Word.[/tweetherder]
All our knowledge brings us nearer to our ignorance,
All our ignorance brings us nearer to death,
But nearness to death no nearer to God.
Where is the Life we have lost in living?
Where is the wisdom we have lost in knowledge?
Where is the knowledge we have lost in information?
I just want to turn down the noise and learn to listen, to be comfortable with silence.
I wonder how much we miss day in and day out because we have become so accustomed to the noise?
For the month of August, I am taking a publishing break. I'll be spending some much-needed time with the family, enjoying the fading days of summer, and practicing some silence.