I hope you all had a joyous Christmas with your families! Christmas came early at our house. Last Thursday I came home to this: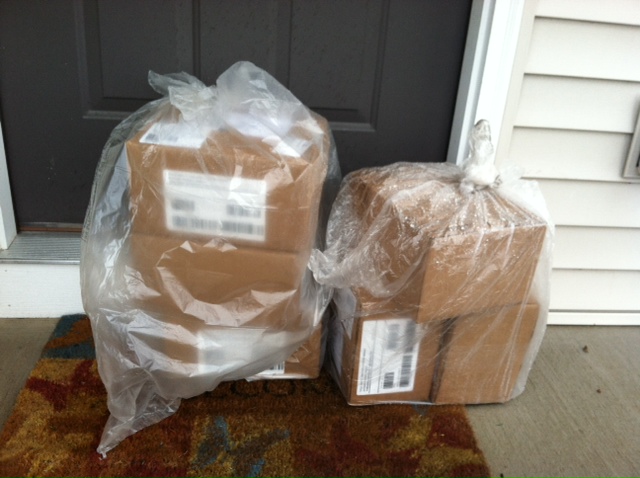 The books had arrived! Over a year's worth of work and waiting and waiting some more was wrapped up in those boxes. If you can believe it, I dragged them inside and let them sit there all afternoon until Kedron came home. A moment like holding your book for the very first time needs to be shared. So I waited. Plus, I needed someone to take photos 🙂
I can't thank Barbour Publishing and Circle of Friends enough for this opportunity. The team at Barbour have been wonderful to work with, and the book is simply beautiful. I've shown it to some family and friends and they turn it over in their hands, flip through the pages and in a quiet voice say, "It's beautiful."  I can't wait for you to have a copy in your hands too. There will be plenty of chances to win copies here and on other blogs. Keep your eyes on the post on my homepage titled Isn't it Time for a Coffee Break? The Blog Tour. I'll be updating that post regularly with links to blogs across the web who are hosting give aways. There's also a sneak peak on that page of the give away package 🙂
And you can always pick up a copy of the book at your favorite local Christian bookstore or at these retailers online. Books will start shipping January 1, just one week away!!
Amazon
Thank you all for walking this journey with me. You have no idea how your comments have encouraged me through the process and how much your own stories have inspired me. Thank you for sharing little bits of your life with me.