Next Friday, January 25 from 6:30 p.m. – 9:00 p.m. we are having a book release party at Ella's Coffee and Cuisine in downtown Lowell, Michigan.
If you are in the area (or want to be in the area for that evening) I would love to have you join me and my family for a fun evening of celebrating!
Ella's makes the most wonderful food and coffee. We will provide light refreshments, and they will also be open with a limited menu if you would like to purchase dinner or a specialty drink. I will also have books available for purchase and will sign yours if you'd like!
Ella's is the perfect location to celebrate the book release, because I happened to write the majority of the book while sitting at a little table in the corner of their shop.
About a month into writing the book I realized that I was horribly unproductive at home. I couldn't sit in front of the computer for longer than 15 minutes before I'd be up swapping laundry or unloading the dishwasher or picking up toys. As I calculated my words per week requirement I realized at my current pace it would take me 2 years to meet my 6 month deadline.
So I loaded up my computer and headed into town. I found a comfy seat in the corner and asked Ella and Randall if I could occupy a seat for 4-5 hours.
"I'm a…writer…and I have…um…a big project I'm working on," I said.
At that point I was still hesitant to admit I was a writer, and I definitely wasn't ready to tell the world I was writing a book. Fear still niggled in the back of my mind that the book might not happen. Oh, I had a contract, but what if I turned it in and the publisher decided to say, "Thanks but no thanks," and cut their losses? Even though everyone else (who knew much more than I did about these things) said that wouldn't happen, I still couldn't get past it. Then there was the whole I-have-to-sit-for-longer-than-15-minutes-and-write issue.
I sat in a sunny corner at Ella's for 4 hours that day and the time flew by. I slurped delicious tomato-basil soup and sipped coffee that tasted divine.  I came back a couple days later, again asking permission to sit all day. And I came back 2-3 days a week for the next 5 months until the book was completed. I even submitted the manuscript to the publisher while sitting in my sunny corner at Ella's!
Along the way I gained enough confidence to tell them that I was writing a book. Oh, and that the title happened to be "Isn't it Time for a Coffee Break?" They thought that was kind of ironic. So did I.
So I wrote a book about having coffee breaks and doing life together while tucked away in a corner of a fantastic small-town coffee shop where people gather to do life together. I watched as co-workers and friends and moms with babies in strollers gathered for lunch and coffee and  pastries that melt in your mouth. I not only watched the community gather, I became part of it and met some great people along the way who happen to have kids in the same schools as mine and who have become great friends.
My friends always knew where to find me, and they would drop off flowers to decorate my table, or give me hugs and bags of chocolate to keep me going.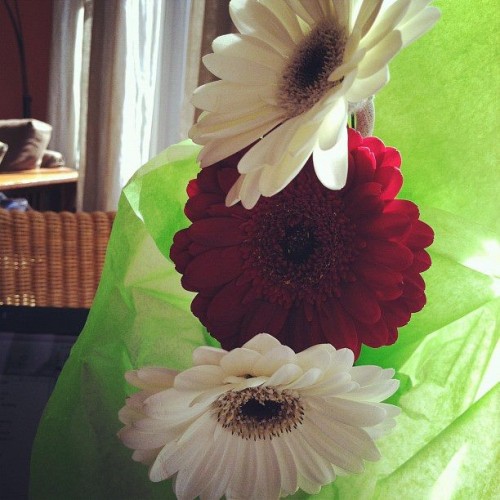 So, it's quite fitting that we celebrate at Ella's, and I would love to have you join us! I will have books available for purchase and would be happy to sign a copy for you if you'd like.