Today is the last day to enter for the final two birthday bash giveaways! You can win a coffee break package that includes a copy of my book here, or you can win a photo print with a scripture on it here.
I understand now why most author's signatures are illegible. It's intentional. By the end of the book release party last Friday night I was having trouble writing my name. A….3 humps for the m…small loop for the e…large loop for the l, oops made another small one….circle for the a…put a dot in the middle for the i…where's the i? I forgot the i? Oh well, close enough!
My family and I had a wonderful time celebrating with everyone who braved the weather to join us at Ella's. The weather turned awful about 2 hours before the party, and my inbox filled with regrets. I certainly didn't want anyone to risk their life on my behalf. But there's nothing quite like writing a book about doing life together, and then fearing that if you host a party no one might show up!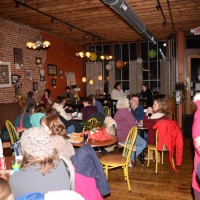 So I was surprised and overwhelmed when the coffee shop filled to capacity, and stayed that way all night long as people came and went. A coffee break party surrounded by so many friends, family  members, neighbors and  a few new friends was the perfect way to celebrate months of hunching over my laptop in this very coffee shop working on "Isn't it Time for a Coffee Break?"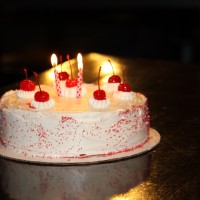 Some of the highlights include my parents calling the morning of the party and saying they were making the 5 hour drive to join us, despite the iffy weather! Halfway through the party I did a reading from chapter 4. Right after I finished, Ella came out with a cake and candles. I had asked her during our planning meeting if she could make some of the cupcakes cherry since the party was the day after my birthday and I always asked for cherry chip cake as a kid. She immediately began planning to make a birthday cake, but couldn't find a cherry chip mix. So she looked up my Dad on Facebook and asked him if they had a family recipe. When he told her that Mom had always used a Betty Crocker mix, Ella realized that they no longer made that mix and she came up with her own recipe. Best. Birthday. Cake. Ever.
Later that evening my friend Natasha purchased a book and sat down in the coffee shop to read the introduction. She went home that evening and wrote this sweet blog post. Thank you, Natasha!
Thank you to all who braved the weather and joined us. I'm truly humbled by the outpouring of support! And for those who lived too far to join us, or were held off by the weather, you can view the rest of the photos on my facebook page.