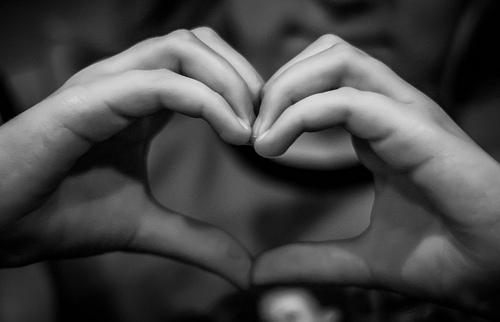 Oh Valentines Day. Sigh. I loved Valentines Day in elementary school. The cards, the candy, the Valentine Box contest.
When I was in the fourth grade we had a contest for the most creative Valentines Box. The teacher tasked us with designing and coming up with our own box hold all our Valentines cards and we would vote for our favorite box.
I was so excited that I had a dream about making my box. I woke up the next morning remembering every detail and certain the box in my dream would win the prize.
The next day, my Dad and I gathered the supplies to make my box. I was going to make a clown, and according to what I did in my dream – I'd use a box as the body, a styrofoam ball for the head, yarn as the hair, and paper towel tubes as the arms. I'd cover the body and arms with wrapping paper.
As I hunted down the supplies my Dad kept asking, "Do you need my help?" I kept reassuring him that "I've got it Dad. I've already made this before. In my dream."
He looked at me with a raised eyebrow, so I repeated myself. "I dreamed about this last night, and I made the whole thing. I know exactly how it's going to work."
So I shooed him away and I made my clown Valentines Box. It turned out exactly how I saw it in my dream. And I won. I have no idea what I won, but it was fun.
Then in middle school, Valentines Day wasn't so fun. I turned into a Valentines scrooge.
It was all about giggling girls and who got chocolate and flowers and who didn't. It became this assumption that if you don't have a special someone to lavish gifts on you on the 14th of February, you just aren't very special. It was about being seen as loved – visible tangible proof in the form of chocolate and cards and fuzzy stuffed animals on a particular day.
I despised that day.
Through the years I'd put on a big smile and pretend I didn't care.
My senior year of high school, Kedron and I were dating long distance. How are you supposed to celebrate Valentines Day when your love is 4 hours away and doesn't have a car? And there's no text messaging or e-mail or Facebook! All day long flowers arrived for girls and I felt lonelier and lonelier. It was ridiculous, and I knew it. At 18 years old I knew I'd found the man I'd be with forever. How many girls can say that? And yet I felt miserable because he wasn't there to give me flowers and cards. (Then the over-worked florist showed up after school, during our play practice. But by then I was almost too miserable to enjoy them.)
Silly. I know.
And for the past 18 years, Valentines Day has been this awkward holiday for us. One of us will get something for the other, but the other doesn't. Then the non-purchaser says, "I thought we didn't celebrate Valentines Day?" But inevetiably one of us caves to the pressure and feels that we "have" to do something for the other.
Then there's the multiple years that we ended up dining at Arby's and Steak and Shake because we were STARVING and everywhere we went had at least a two hour wait.
Not a fan of Valentines Day hype.
So this year, as the day of sugar and sap approached and I felt my spirits sinking, I determined to do something different. I sat down and made a list of people to send cards to. Not Valentines cards, but "for no particular reason" cards (which is a good thing because they won't arrive before Valentines Day).
Friends who live far away and I miss them. Cousins we don't get to see often. Friends I know who are having a tough time right now. People who are searching for jobs and struggling to find one. And I wrote my appreciation and love for them. Just because I do.
Because really, love isn't about what we get. It's about what we give. It's about reaching out and expressing to others how much they mean to us. I can get into that.
In fact, I'm thinking that the 14th of each month makes a great mid-month mark the other 11 months of the year to sit down and write notes to people in my life and let them know I love them. Why save it just for Valentines Day?
So if you're a Valentines Scrooge, you're not alone. And it's ok. Being a Valentines Scrooge doesn't mean you're not into love. Just not all the commercialized hype that goes with February 14.
If you haven't signed up for my e-mail newsletter yet, the first one will go out this week yet! Sign up below. I have some exciting things in the newsletter that I haven't shared elsewhere yet!