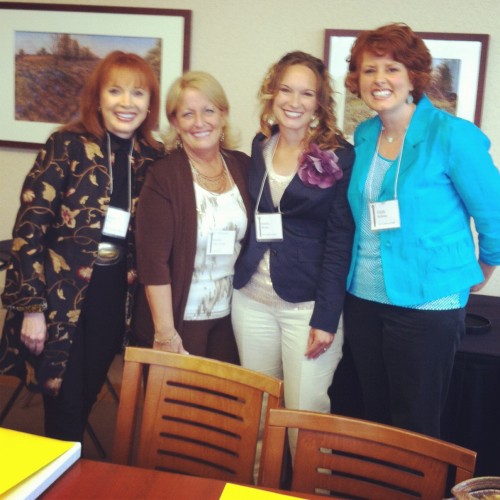 Two years ago, I showed up for Carol Kent's Speak Up Conference with knots in my stomach, weak knees, and a bag stuffed with printed-out talks bleeding with hand-scribbled revisions.  I hadn't done any formal speaking for years unless you count the rehearsed lines of, "Pick up your dirty clothes. Hang up your towel. Please don't get toothpaste all over the cabinet and floor."
I had never been published anywhere, and I was walking into a conference filled with strangers, alone. Yet, some unseen force propelled my feet forward and gave me just enough courage to smile and say, "Hi," a hundred times over three days.
I covered my notebook pages with ideas and thoughts. When asked, "What do you write?" or "What topics do you speak on?" I mumbled responses like, "I'm just starting. I'm here to figure that out." Then I reversed the conversation to get them talking about themselves.
When I left the conference, I wrote this on my blog:
I left encouraged that God can use me, even if my story isn't dramatic and even if I only have an audience of one. He has a purpose for me, and I have a reason to Speak Up, because of the things He has done for me. I have this "creative stirring" as Carol describes it. And even though I don't know what exactly God is stirring me to do, I'm willing to grow and be ready to walk through any doors He may choose to open for me. I know I was where I was supposed to be that week!
Had someone told me that within two years I'd return to the same conference with a published book, teaching a workshop, and a growing portfolio of published pieces, I wouldn't have believed them.
This conference was the tipping point for gathering courage, receiving practical training, and making new friends who've walked this path with me.
If you are involved in ministry, or considering a ministry of writing, speaking or leading, take a look at the Speak Up Conference, held at Calvin College in Grand Rapids, MI June 27-29.
Part of your conference experience (at no extra cost) includes the opportunity for one-on-one appointments with agents, editors and publishers such as:
Revell
Zondervan
Discovery House
Kregel
Somersault
Blue Water Ink
Credo
NavPress
Bold Vision
I'm linking up with Cindy Bultema's blog today (who I met at that very first conference and has become a dear friend!). She's sharing another author's story about how the Speak Up Conference opened doors for her. You can also win one of ten partial scholarships to the Speak Up Conference this year. Check out her post on how to enter to win! You don't want to miss it!