[pinit]

How can this be the last week of June already?! It seems like school just got out last week, but here we are at the end of June. If you're like me, the days often feel long, but the weeks slip through your fingers like sand.
Here are a few things we've done this summer to stop and savor the moments before summer is gone and we're back in our winter jackets. (Weather report, it was finally in the 90's yesterday! woot!)
1. Take a photo walk
There's something about taking a camera on a walk with you that forces you to slow down and pay attention to your surroundings. On Father's Day we spent a couple hours walking the boardwalks at our favorite state park along Lake Michigan. Kedron just had his iPhone camera, but we stopped every few feet to admire and snap the little details in nature that struck us as interesting. A spider on a web. A baby pinecone. An interesting leaf.
T-Rex kept running ahead and shouting "Daddy, take a picture of this!" As we exited the boardwalk, he had a handful of sticks and bark. I asked him if he planned on taking them home. (My car is already a time capsule of all our summer adventures.) "No, I just want a picture of them. I think they look cool" he said.
So he lined them up like this, and I took a picture.
2. Pick up an old hobby or learn something new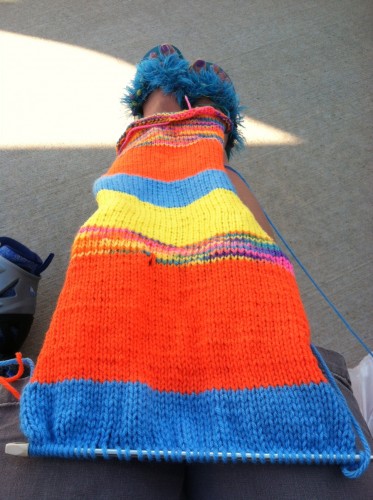 I saw a sign in a local shop stating that the local arts council was looking for knitters to help "yarn bomb" our adorable little Main Street later this summer. I haven't done much knitting in awhile, but I have a mini-yarn shop in my basement. I sent an e-mail and before I knew it, I had been assigned a cute little tree on Main Street and had a month to knit up 57″ in bright colors. I'm nearly done already! I'd forgotten how relaxing knitting can be. It's also an activity that forces me to sit still.
The kids have started piano lessons this summer. When I approached their teacher about signing them up, she said that summer is the perfect time to start lessons because they have more time to practice. I even dug out my old piano books from the basement and tickled the ivories a bit this weekend.
I always find that learning something new is so rewarding. It strengthens my brain muscles and helps my focus and concentration in other areas. Not to mention the confidence it builds.
3. Plant something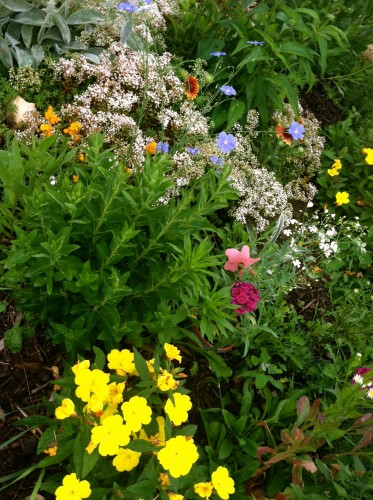 You don't have to plant a full vegetable garden. There's something satisfying and relaxing about planting even just flower seeds around the outside of your house. A few weeks ago I planted some daisies and cone flowers. Every day, I take a little bit of time to walk the yard, water the seedlings and examine how much they've grown.
Planting perennials from seed is the gift that keeps on giving. Last year, I planted several packets in a flower garden in the back yard. This year, those flowers have exploded with color. It's been fun to inspect them every day and drink in the rainbow of colors.
4. Journal
You don't have to be a writer to journal. I've been using an app called Day One to write just a sentence or two about each day. The app also allows you to include a photo with each post. It's been a fun way to stop at the end of each day and reflect on what happened and celebrate the little moments that made each day special.
5. Read
And of course, reading is one of the top summer slow-down activities. Last night Little Miss asked if she could keep her light on for awhile to read before going to bed. She looked at me and said, "You know, I have to exercise my brain!"
There are plenty of fantastic books to read this summer. Shameless Plug: If you haven't picked up my  book Isn't it Time for a Coffee Break? it's a short, fun, easy read perfect for summer. I also just finished Bread & Wine by Shauna Niequist – a fantastic book of essays about food and life around the table with yummy recipes you will want to try this summer. My good friend Susie Finkbeiner's novel Paint Chips released earlier this year. Through the end of June she is donating $.50 from each e-book sold to the Manasseh Project, an organization dedicated to helping rehabilitate survivors of human trafficking in Grand Rapids, Michigan!
How are you slowing down this summer and making the moments count? What are you reading? How are you relaxing?
Linking up with Jen and the Soli Deo Gloria Sisterhood today!
photo credit: hannahgunn on sxc.hu, words added by Amelia.