For a year we planned, prayed and prepared for the Breathe Christian Writers Conference. Last weekend, 130 people wandered the halls, making connections, sharing ideas, and encouraging each other. This conference feels like coming home. It's one of the highlights of my year (like right up there with my birthday and Christmas!)
I helped a lot behind the scenes, and totally forgot to take pictures! However, here are few highlights:
Seeing three ladies I helped introduce to each other last year attend together this year with two more women. The five of them have met as a writers group for the past year!
Meeting with attendees one-on-one for encouragement and (hopefully) giving them some direction. One woman looked at me with tears in her eyes and said, "This was what I came to hear this weekend." Praise to God! I can't wait to read her book some day!
Hearing Twila Belk (Cec Murphey's right hand) speak again. I love her energy and humor. She reminded us to not get caught in the comparison trap. "Even Penelope Perfect picks her nose," she said. Love that gem of wisdom. She also told us,
"Trust and obey and get out of the way!"
"Hold on to what God has promised you regardless of what you face in the physical realm."
"Don't let naysayers keep you from doing what you know in your heart you're supposed to do."
"Don't die with a story still in you. Let it out!"
Our keynote speaker Latayne Scott is such a wise woman. I heard her two years ago at my first Breathe Conference. I couldn't wait to hear her again, and I was not disappointed. She reminded us:
"If you have something to say, God will help you say it, but He's probably not going to publish your thoughts." (You have to do the work of actual writing!)

"How can your project link people to the unseen things of God?"
Dave Lambert told us that an editor is our most dedicated reader and our best reader. No one will ever look at our manuscripts as closely as an editor. Good editors are advocates for the reader, and advocate to the publishing team the vision we have for the book. Dave is a wealth of information, and I think I could listen to him explain the publishing process all day long.
Jeanette Taylor gave an excellent workshop on your Target Market. I'm a total geek when it comes to marketing stuff, and she is a great teacher. I can't wait to get to work on a persona for my next book, which makes my husband quite excited. He does this all the time. And if you have no idea what that is…um…ask Jeanette.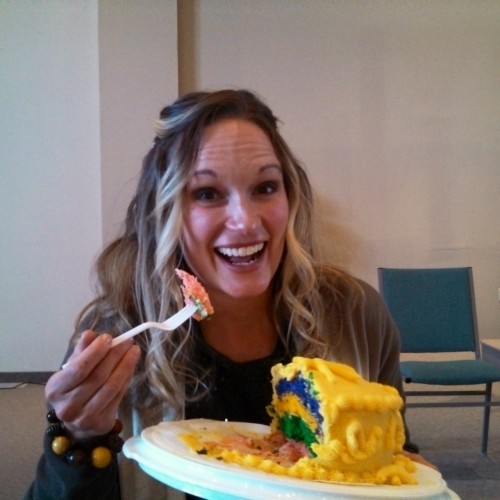 I had so. much. fun. teaching a workshop on "Writing from life." I broke down my process of taking everyday stories and focusing on one point that a reader can relate to and learn from. I loved hearing the attendees work through some of their own stories. Eyes lit up as they caught the fever. Many of them told me, "I can go home and do this!" Mission accomplished! I used a cake as an illustration in the workshop. It must have tasted yummy, because I didn't even get a bite (this was just for the picture!). I reminded them that like icing holds together the layers of a cake, all details of their stories need to be held together by their focus. It was a pretty "sweet" visual if I must say so myself!
If you are a writer, or you know a writer, or you like to hang around writers, or you just like to be around interesting people, mark your calendars for October 10-11, 2014. New York Times bestselling author Julie Cantrell will be our keynote speaker.