[pinit]

Happy Cyber Monday. Looking for meaningful gifts? I think that books make the best gifts! I'm a writer so I guess I'm supposed to say that. However, of all the gifts I've been given throughout my life – books are the ones that lasted. Clothes go out of style and wear out. Toys break and we outgrow them. But books?  I  still have boxes of them from my childhood. I also have the stories and memories – hours spent under the covers, in a tree, on a swing, in the backseat of mom's car – forever in my heart.
Books shape us and inspire us. Books teach us and help us make sense of who we are and who we can become.
Here are books that I've read and loved this year, books that I've had the joy of contributing to, and books that dear writer-friends have written. Any of them would make excellent gifts. I've made suggestions for types of people who might enjoy them. They may, of course, fit other categories too. And some of these are series recommendations, hence the (ish) number.
For your friends:
Isn't it Time for a Coffee Break? Doing life together in an all-about-me kind of world, by me. (Let's just get the shameless plug out of the way.) It's hard to believe it's been a year since my first book released! Thank you for all your support over the past year. Pair this book with a bag of your friend's favorite coffee, and then invite her to join you in the new year for a book club or an afternoon of coffee and treats to deepen your friendship!
For a young mom:
Just Give Me a Little Piece of Quiet: Daily Getaways for a Mom's Soul, by Lorilee Craker. Who doesn't need a bit of quiet? I just picked this one up for my Kindle. Lorilee is a good friend, and a local writer. You'll love her!
For children:
Jesus Storybook Bible, or any book by Sally Lloyd-Jones. This one is a classic in our home. The kids are currently using it to create their own Christmas play. Confession. Sometimes I sit down and read the stories just for me. The writing is beautiful and moves me to tears at times.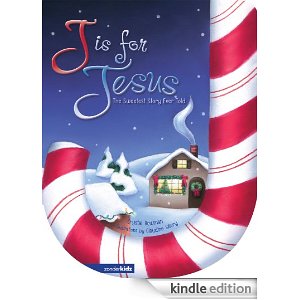 J is for Jesus, or any book by Crystal Bowman. Small children will love this gentle story about the origins and symbolism of the candy cane, in this kid-friendly, oversized, die-cut board book. (I met Crystal at a writers conference last year. She's an incredible writer with a huge heart for children. Her books have won awards, and she has written a LOT of them. Check out her website for great suggestions.)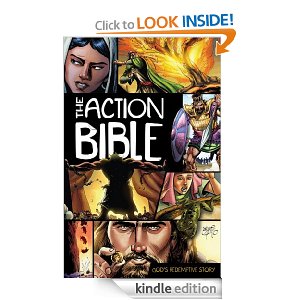 The Action Bible, from David C. Cook, illustrated by Sergio Cariello. I picked this one up last year for my nephew, and gave one to T-Rex this year for his birthday. The illustrations are amazing, and the stories are laid out comic book style.
Chicken Soup for the Soul books always make great gifts. (I have stories in these 3 books,)
For a woman who's married:
Devotional Stories for Wives 101 stories to comfort, encourage, and inspire you. My friend Lisa also has a story in this book. My mom read the first two devotionals in this book (neither of which were mind) and then promptly share them with all her friends. Just to clarify, she also shared my story. She's a good mom 🙂
For a woman who's getting married:
Here Comes the Bride 101 stories of love, laughter, and family
For a writer:
Inspiration for Writers 101 motivational stories for writers – budding or bestselling  – from books to blogs
For an artist: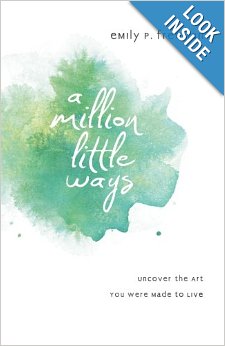 A Million Little Ways: Uncover the art you were made to live, by Emily Freeman. Not just for artists, Freeman "uncovers the creative, personal imprint of God on every individual. It invites the discouraged parent, the bored Christian, the exhausted executive to look at their lives differently by approaching their critics, their jobs, and the kids around their table the same way an artist approaches the canvas–with wonder, bravery, and hope." A few chapters in, I'm enjoying this one a lot.
For those with a heart for justice and mercy: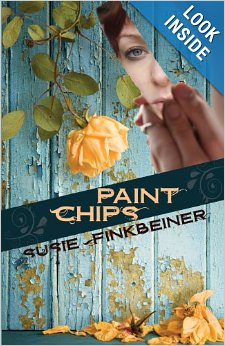 Paint Chips, by Susie Finkbeiner (her second novel releases in February! Be sure to check it out!) My friend Susie wrote a beautiful book about a mother and daughter torn apart and later reunited. Her story touches on truths about our own communities that would be easy to ignore, but we must acknowledge and do something about.
For a history-lover: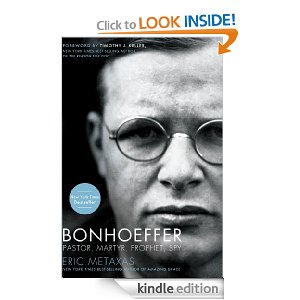 Bonhoeffer: Pastor, Martyr, Prophet, Spy, by Eric Metaxes. Take a look at Germany leading up to (and through) World War II through the life of a German pastor.  "As Adolf Hitler and the Nazis seduced a nation, bullied a continent, and attempted to exterminate the Jews of Europe, a small number of dissidents and saboteurs worked to dismantle the Third Reich from the inside. One of these was Dietrich Bonhoeffer—a pastor and author, known as much for such spiritual classics as The cost of Discipleship and Life Together, as for his 1945 execution in a concentration camp for his part in the plot to assassinate Adolf Hitler." A compelling life story, brilliantly told by Metaxes.
For historical fiction lovers:
Flame of Resistance, by Tracy Groot. Another Christy-award winning book by my friend Tracy Groot. "Years of Nazi occupation have stolen much from Brigitte Durand. Family. Freedom. Hope for a future, especially for a woman with a past like hers. But that changes the day American fighter pilot Tom Jaeger is shot down over occupied France. Picked up by the Resistance, Tom becomes the linchpin in their plan to infiltrate a Germans-only brothel and get critical intel out through Brigitte, a prostitute rumored to be sympathetic to the Allied cause.D-day looms and everyone knows that invasion is imminent. But so is treachery, and the life of one American pilot unexpectedly jeopardizes everything. He becomes more important than the mission to a man who cannot bear to lose another agent and to a woman who is more than just a prostitute, who finally realizes that her actions could change the course of history."
Widow of Gettysburg: Heroines Behind the Lines, by Jocelyn Green (also check out Wedded to War) Green takes a look at the lives of the women who worked behind the lines during the Civil War, the sacrifices they made, the pain they endured, the forgiveness they offered. Green's stories are based on the true lives of women from the era. Beautifully told, you won't be able to put these stories down!
Ring of Secrets (Culper Ring Series), by Roseanna White. In case you haven't gathered, I love historical stories. This series is based on the Culper Spy Ring who aided George Washington during the Revolutionary War. Under the threat of death, these every day heroes fought for our freedoms in the shadows and alleys.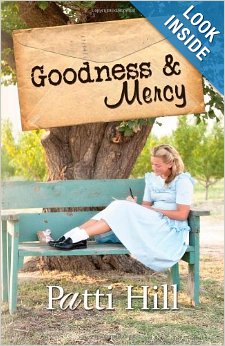 Goodness & Mercy, by Patti Hill. This is another story that takes place during World War II, but in Colorado on a peach farm. I chatted with Patti about the story at a conference in October, and loved hearing how she researched this. It's a creative telling that weaves in things I never knew about peach farming, and World War II prisoners of war.
For the cook: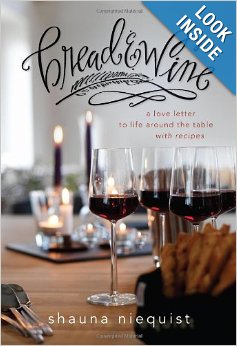 Bread & Wine: a love letter to life around the table with recipes by Shauna Niequist. "Shauna Niequist returns with the perfect read for those who love food and value the community and connection of family and friends around the table. Bread and Wine is a collection of essays about family relationships, friendships, and the meals that bring us together." Loved this book, and the recipes in it. An invitation to life around the table, essays on community and inviting in, totally my cup of tea.
For a dad: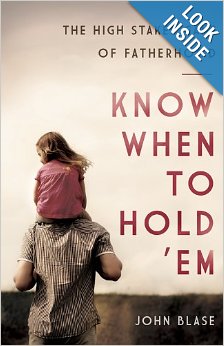 Know When to Hold "Em: The High Stakes Game of Fatherhood, by John Blase. Blase is an incredible writer and poet. "Far from the conventional parenting book, Know When to Hold 'Em will encourage readers as they see parenting and fatherhood through a new lens–that of adventurer, risk-taker. Blase moves into new territory to invite fathers and parents to look at the risk and challenge–and great rewards of parenting–as he invites readers into his imperfect, yet loveable home"
For a business man or woman:
Lead with a Story: A Guide to Crafting Business Narratives That Captivate, Convince, and Inspire, by Paul Smith. This was a fascinating read. Yes a business book that was fascinating – because it was filled with stories. Smith not only instructs the reader how to capture and re-tell captivating stories, he shows how stories bring desired results in a variety of business situations. Using stories from across the globe, it becomes a reference manual for business storytelling.
 I'm always looking for new books to read and give. Which ones do you recommend?