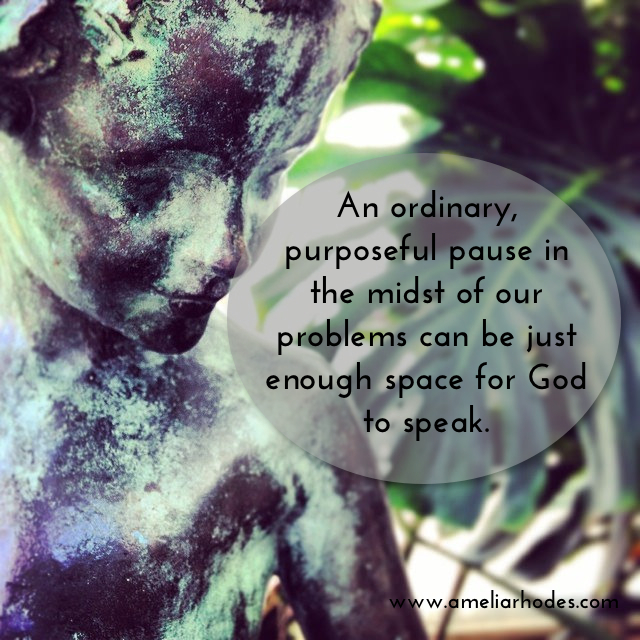 The day had not started well. We overslept by a little and I was urging the kids to "hurry, please hurry" as they slurped down soggy cereal and I slapped peanut butter on bread. After quick kisses on rosy cheeks and a happy wave as the yellow bus rolled down the street, I dashed back upstairs for the world's fastest makeup application and hairstyling.
Even with all the rushing and hurrying, I couldn't make up the lost time. Like a skier who gets out of the start a second too late and can't ever make up the speed, I was just plain late for Bible study.
I tried to shave a minute here and there. A rolling stop. A hair over the speed limit. Then, a slow-moving semi on a 2 lane county road appeared out of nowhere. I slammed the brakes, sending my purse and all its contents across the floor of the passenger seat.
It was the purse dumping on the floor that pushed me to the brink of emotional and spiritual calamity.
Five days prior to this morning, Kedron had received the call that he had thyroid cancer. We hadn't told the kids yet, and we had no idea what this diagnosis meant. I had maintained a peaceful calm through the unknowns. I knew that God was walking this journey with us. And even though my emotional cup was nearing full, I'd yet to overflow. The purse did me in.
I took a deep breath, fully planning to explode a verbal volcano. I'd had all I could take. I wanted to scream and cry about all that was unfair, like cancer and the conversation we needed to have with our kids.
As I prepared to exhale, I paused.
I sensed that how I responded in private mattered.
I knew that my response to this piled up frustration that had dumped with my purse could set the course of my day and potentially weeks ahead.
So rather than screaming at God, I made the choice to talk to Him. I begged for help and mercy and peace. I asked for help to maintain my faith through this time and to not let the ordinary things undo me. I asked for grace, and for these frustrating unknowns to become fertilizer for my faith.
An ordinary frustration nearly pushed me over the edge.
But an ordinary breath, a simple but intentional pause was all it took to turn the day around.
In the midst of our days of rushing and hurrying, while attempting to always catch up, how often we forget to take an ordinary pause.
A deep breath.
Offer a simple prayer for help.
An ordinary, purposeful pause in the midst of our problems, can be just enough space for God to speak.
Rather than rushing through on our own strength and winding up exhausted, giving God room to speak – even while driving behind a super-slow semi – can take ordinary to extraordinary.
That's exactly what happened. I'll share what happened next on Thursday.
[tweetherder]An ordinary, purposeful pause in the midst of our problems, can be just enough space for God to speak.[/tweetherder]
[tweetherder]How we respond in private, even w/ ordinary problems matters. [/tweetherder]
*photo by kedron rhodes