I'm excited to announce that last week I signed a book contract with Worthy Publishing to write a book on praying for your community.
With all the events of the past weeks in the world around us, I feel the urgency to pray for my neighbors, my community, and the world around me more than ever before.
I'm thankful to have the opportunity to work with a great team at Worthy (including Leeann, pictured above) and bring you a book filled with practical resources and the hope we have in Christ.
I'll share more details in the coming months. (If you haven't signed up for my e-mail list, now would be a great time:

And in case you think signing a book contract is glamorous, here's the reality:
I was rushing out the door to drop the kids off at school when I realized, "Oh no! I have to get that in the mail this morning." I grabbed a pen and asked T-Rex (my 9-year-old) to take a picture. Don't ask him how many we took to get one that didn't have me looking ridiculous (my fault not his). He was a good sport.
As life tends happens around here, we also sold our house last week.
In the two years post-cancer, we've been praying about how God would have us live. For about a year we've discussed selling and moving into something smaller and simpler. I'll share more about this in the coming weeks. It's not been an easy process, and we're stepping into a lot of unknowns, but we have incredible peace.
Right now, even though my life looks like this: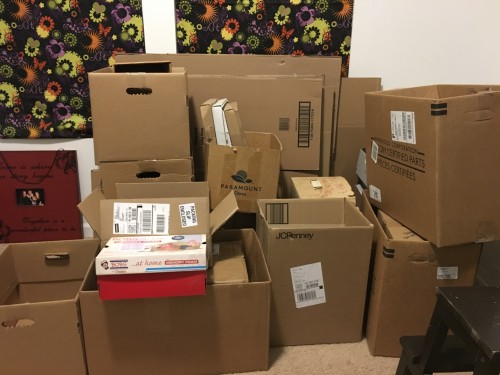 My heart feels like this:
It's freeing. We've sold a lot of things, and as I've evaluated every drawer, every cupboard, I've come to realize how much I don't need.
A couple years ago our pastor wrote a book called Satisfied:Discovering Contentment in a World of Consumption. One of the most life-changing statements for me was that if I haven't used something in over a year, it belongs to someone else. My holding on to it could be preventing someone else from using it.
After hearing that, I donated boxes of fabric and yarn to a charity group. The women were so delighted to take my yarn and fabric, and by now they've turned them into hats and baby blankets and baby clothes for families in need. If I hadn't given it away, it would still be in my basement. Instead, it's in the hands of someone who needed it.
So those are the big changes happening around here. I'm learning that you can write a book anywhere, anytime. In the middle of boxes. In the passenger seat of a car. Sitting on the floor because you have no furniture…
I'm learning to let go.