Hello, it's me.
I was wondering if after all these months you'd like to meet.
Sorry. Couldn't help myself.
But seriously, how are you? Happy 2016! February is already halfway over! How did that happen?
I hope your holidays were peaceful, calm, and that you're well on your way to meeting all your goals for 2016.
If not? Well, welcome to the club.
Since we last chatted here, my family moved. As in, we moved two weeks before Christmas, during the last week of school before holiday break.
Yeah. That was an adventure.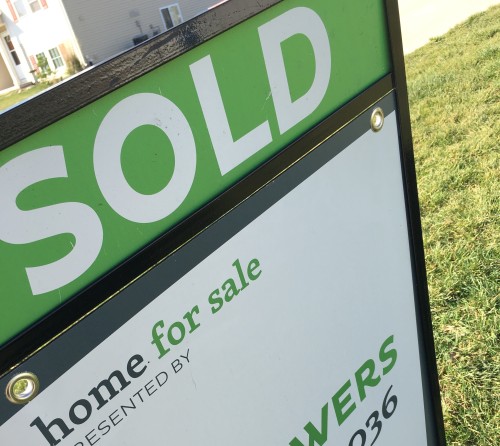 It's an adventure that started nearly two years ago wrestling with big decisions we felt God urging us to make for our family's future. I'll get to that story in a later post.
We made the decision to sell our five-year-old home in the spring last year, while houses were taking mere days to sell in our neighborhood.
However, we spent all summer patching holes, re-painting, finally putting a cabinet in the laundry room, and fixing a long list of minor repairs.
We finally listed the house in September, after school started and just in time for the market to screech to a halt. Secretly, I didn't think it would sell until spring.
In early November, Kedron and I decided that if it hadn't sold by Thanksgiving, we would take it off the market and re-list in April.
Because, you know, no one wants to move in the winter in Michigan, especially during December.
Two days later, on a Sunday evening at 5:30 p.m., the doorbell rang.

We had just heated up leftovers and were getting ready to snuggle under blankets and sniffle our way through the heart-warming Gortimer Gibbon's Life on Normal Street.
A confused woman with a shock of pink hair looked past Kedron into the house and said, "Uh, we were scheduled to have a showing at 5:30."
Kedron threw a panicked look over his shoulder at me, then said to the woman, "Give us 5 minutes, and we'll be out of here."
"Why didn't we get the message?" I hissed through clenched teeth as I urged the kids to put their leftovers back in the fridge, now, now, go!
"But what about diiiinnnner??"
"We'll eat out, at the new BBQ place in town," Kedron replied.
Suddenly the kids were motivated to get moving. Rubbery leftovers or fresh pulled pork? No brainer.
Thankfully, we had spent some time cleaning up the house earlier in the day, "just in case."
Then I realized why we didn't get the message about the showing. We had switched our mobile phones and carrier two days prior, and Kedron's number had taken a day to port over to his new device. The voicemail from the realtor got lost in the transition.
We dashed out the door for dinner.
A couple hours later we returned home, and Kedron started fielding calls from our realtor. "They want to know how much monthly utilities are."
"Do you have a yearly average for utilities? How much were taxes last year? What temperature do you keep the house?"
"Oh man," I said to Kedron. "Watch, they're going to make an offer."
Kedron left early the next morning on a business trip to Colorado. He spent the entire day traveling and in meetings, and I didn't have time to think about the house, or the fact that I should have given our realtor my phone number.
At 9 p.m. Kedron called. "Can you please call the realtor? He's left several messages. They want to make an offer."
"You're out of town. Of course they want to make an offer!"
By the time I got in touch with the realtor, he was in a bit of a panic fearing he'd done something wrong, and certain we were going to change our minds about selling.
"Nah," I re-assured him. "Kedron's traveling. Maybe you should keep my number handy for the next few days."
We had until midnight to accept or counter the offer.
Over the next few days while Kedron traveled, the realtor and I went back and forth with the offer. By the time Kedron got home from his trip late in the week, it was over. They'd offered. We'd countered. They countered. We came back again, and everyone finally agreed.
Wonderful.
Except, we had no idea where we were going to live next.
Did I mention the market had dried up and nothing was for sale in our little town in mid-November?
"Do you trust me?" That's when I first heard the nudging. It would get louder over the next couple months, until I could no longer ignore it.
"Do you trust me?"
"I think I do, God. I always thought I did."
"Do you trust me now?"
I answered yes in my heart, but my actions proved I still wanted control and not trust.