With no houses on the market, we wondered if the plan to scale back and simplify was going to work. There was no Plan B, and our lease was only until June 30. (Read Part 1, Part 2, Part 3.)
May 1, the landlord called and got right to the point. "We're selling our rental properties. Because of our health, they're getting hard to keep up with. I'd like to bring the real estate agent through next week. I know you're looking for a house to buy. Have you found one yet?"
For some reason, it was almost like I expected this call. I wasn't surprised or fearful.
"No, we haven't. There just aren't any for sale in our price range, or really for sale at all."
"What are you looking for, exactly?"
I described the location, size, and how we were looking for a fixer upper that had good bones, something to put a lot of sweat equity into.
"Actually, we have a rental that we're selling that sounds exactly what you're looking for. It's the house next door to where you're living."
All winter long, whenever I ran on the treadmill, I stared out the window at the house next door. It was a cute two-story home, and I couldn't help but wonder who lived there. As I ran miles to nowhere, I  sometimes saw light and movement in the house as the occupants got ready for the work day.
"You own that house?" I had no idea.
"Yes, but keep in mind, it needs a lot of work."
"That's what we're looking for," I replied.
She asked our price range. "Well if you're willing to go without realtors, and take the house as is and do the work yourself, I think we can meet that price."
I was ready to buy and we hadn't even stepped foot inside.
"I'll need to offer it to the current tenants, and if they don't want to buy it, you get first choice. I'll let you know."
We tried not to think about it for the next week and a half, until we heard back.
While we waited, we continued to look just in case something popped up for sale. One more house came back on the market after an offer came through. It wasn't in the desired 1.1 square mile neighborhood, had a roof in shambles, and only 2 bedrooms. It also was on the upper end of our price range.
We went ahead and scheduled a showing for 6 p.m. on a Friday because we felt if it didn't have moldy walls we might just have to figure out how to make this one work.
Meanwhile, I kept praying about the house next door. It had been a little over a week since I talked to the landlord.
I was dashing out the door for the  6 p.m. showing when the landlord called.
The current tenants didn't want to buy. Did we want to look at the house tomorrow?
Um yes.I tossed and turned in anticipation all night long. Could it be that the very thing I didn't want to do (rent) had been the necessary step to get us exactly where we were supposed to be? Could it really be that we would buy a house not even on the market, from our landlords, within that tiny 1.1 square mile and end up moving next door?
There were still no other houses for sale in this neighborhood. We had walked through the only  houses for sale in our price range in our entire small town.
The next day we walked through the house, barely believing our eyes. It was exactly what we had been praying for, right down to the amount and type of work we felt we could handle. It was exactly the right price, and it was in that 1.1 square mile we felt called to.
Over the next couple weeks we worked out the details. We closed on the house June 1. We will take possession and start remodeling it this weekend. (Our 6 month lease ends June 30. For real).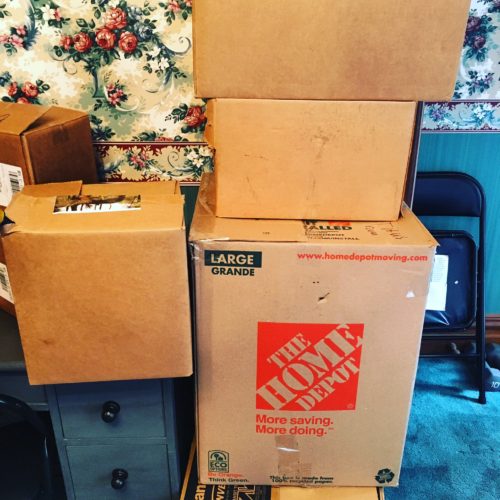 A few days after we closed on the house, I was walking into the rental, seeing our new home just over the fence when it hit me. For five months I had wondered where God was taking us. Did we hear correctly? Did we follow His voice or was this whole thing a crazy mistake? I realized, we had been exactly where we were supposed to be the entire time. There it was right in front of me, the answer to our prayers, already there. It just wasn't time for Him to reveal it yet.
God had led us to what I thought was the very edge and said "leap." We jumped and found the sure ground of His provision already under our feet.
Glory to God. No one else could have worked this out in such an amazing way.
We know it won't be easy and there will be setbacks. It will still be uncomfortable, and we have a whole lot of work ahead of us. As in a LOT.
But we're ready to keep moving forward.