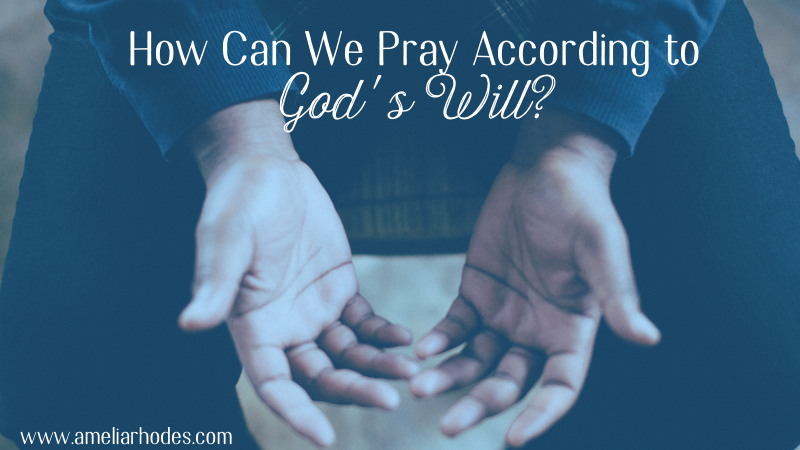 I sat on the outside ring of the group of men and women praying. The young man in the center had just discovered through a routine doctor visit that he likely had cancer. He was a young father, and the news  shook his church community like an earthquake.
Around me, voices lifted with pleas for healing, for the doctors to be wrong, for all to be well.
With each prayer, the voices' pitch and fervor raised, to almost a frantic level.
"God, we know you can bring healing and we KNOW you can do this for him!"
"Yes, Lord HEAL him!!"
The pleas turned to borderline demands.
My ears began to ring. The blood left my head. My heart rate quickened as sweat dripped down my temples.
This was no time to have a panic attack.
I squeezed my eyes shut harder and focused on my breathing, taking a small step backward from the circle.
Why, Lord? Why am I panicking now?
Then I realized how similar the situation was to what our family lived through a few years prior. A routine doctor appointment and blood work had revealed my husband's cancer. We had been so certain it wasn't cancer. Even the doctor thought it wasn't cancer.
We prayed it wouldn't be cancer.
But it was.
Oh Lord, these friends…what will happen to their faith if it is cancer? Because it might be.
Then one of my friends raised his voice, steady and sure.
"Lord, we know you can cure cancer. But we also know that whatever path we must walk, we do not walk alone. And if it be your will, that the road we must walk is cancer, we accept it. And we ask that your will would be done and you would bring peace and hope and draw us closer to you through whatever comes."
I took a deep breath, and the ringing in my ears diminished. There it was. The submission to God's will. I felt the room relax as we remembered, healing of cancer or not, we have the ultimate Healer walking beside us.
John reminds us:
This is the confidence we have in approaching God: that if we ask anything according to his will, he hears us. And if we know that he hears us—whatever we ask—we know that we have what we asked of him.
1 John 5:14-15

How do we pray according to God's will?
I've learned – With open hands and not demands.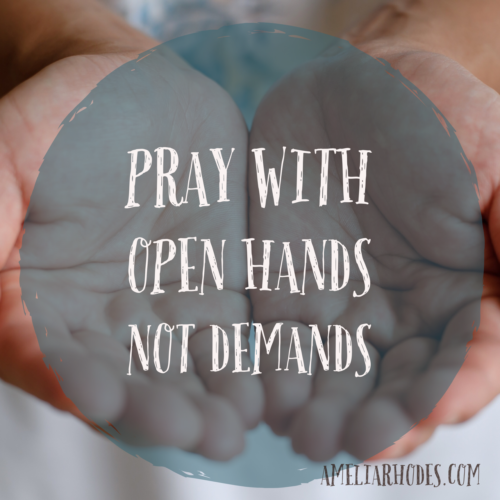 [tweetherder]How do we pray according to His will? With open hands, not demands.[/tweetherder]
[tweetherder]Yes, pray boldly. Pray specifically. But with open hands.[/tweetherder]
Demands assume the position of God, that we know what is best, not him.
Demands assume that God isn't or can't work through pain and suffering.
Demands deny God's power in the midst of struggle.
Sometimes, the way is marked with pain and suffering, but that doesn't mean it's outside of God's will. That's hard to accept, I know.
[tweetherder]With open hands, we let go of our demands. [/tweetherder]
With open hands, we willingly accept whatever the situation may be, and in that situation we have open hands to accept His comfort, His peace, His ultimate healing, and the relationship He offers with the Father during our most intense pain.
[tweetherder]Jesus showed us how to pray with open hands and not demands in His darkest hour. [/tweetherder]
Knowing He had been betrayed and was about to be arrested, beaten and put to a humiliating and gruesome death, Jesus prayed:
 "Father, if you are willing, take this cup from me; yet not my will, but yours be done."  An angel from heaven appeared to him and strengthened him. And being in anguish, he prayed more earnestly, and his sweat was like drops of blood falling to the ground.
Luke 22:42-44
"Yet not my will, but yours be done." I love how God then sent comfort and strength to His Son.
Whatever you might be facing today, pray boldly. Yet pray with open hands, ready to receive whatever the Father may have for you. Through His perfect will He will work things in and through you that you cannot even imagine. Even in cancer.
The diagnosis for the young man was cancer. The prognosis is good. And through it, God is working His will and bringing life and hope and the light of His love to many.
Prayer Resources: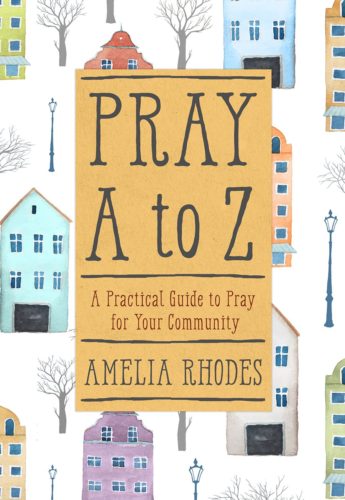 If you're facing situations in your community that you aren't sure how to pray about, or even where to begin, I humbly suggest my latest book Pray A to Z: A Practical Guide to Pray for Your Community.
From Adoption to Mental Health, to Violence and Zero Prejudice, we pray together boldly and with open hands for God to work in the midst of our pain.
Other great prayer resources:


Prayers for Hope and Healing: Seeking God's Strength as You Face Health Challenges
by Sarah Forgrave
Prayer: Experiencing Awe and Intimacy with God
by Timothy Keller
Too Busy Not to Pray
by Bill Hybels
*Affiliate links are used in this post.