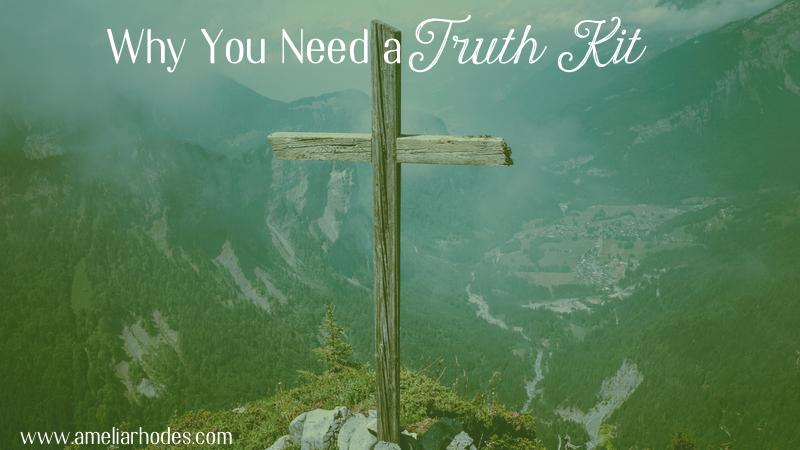 *congrats to Julie B. who won Prayers for Hope and Healing by Sarah Forgrave!
I sat in the waiting room, nervously tapping my foot. Behind the closed doors lay answers. Answers I may not want. But answers I needed.
One-by-one the nurses called each woman back for a turn to slip into a gown and get her answers.
I dug into my purse and pulled out a worn, spiral bound 3×5 notebook. When I first got the notebook, I scribbled 2012 in the front cover. That's the year I started building a truth kit. It's the year I vowed anxiety and panic would no longer rule me. At the suggestion of a friend, I'd bought a notebook and started carrying it with me.
Every time I heard a verse or encouraging line from a sermon, I wrote it down in my notebook.  A few times I sat at my computer and searched biblegateway.com for all the verses related to "hope" or "strength." I wrote each verse in my notebook, so when I needed them, when I felt myself slipping into darkness, I'd have light to cling to.
That day while waiting for my turn for answers, I pulled out my truth kit and read:
I keep my eyes always on the Lord. With Him at my right hand I will not be shaken.
Psalm 16:8

When life is heavy and had to take, go off by yourself. Enter the silence. Bow in prayer. Don't ask questions. Wait for hope to appear.
Lamentations 3:28-29
With each verse, I offered a simple prayer: "Keep me tethered to the truth of Who You are, and who I am because of You. You are the truth that doesn't change, no matter what answer is behind that door. You are the Answer."
[tweetherder]God is the Truth that never changes.[/tweetherder]
Over the years, I've added to my truth kit. I often carry a quarter in my pocket to remind me of God's provisions. And when I look out my kitchen window, I see the rental house God provided in the midst of the unknown and remember I should ever doubt His goodness, even when I cannot see it (because it might be right in front of my face and I just don't know it yet!).
As I sat waiting and praying my phone chimed with text messages from supportive friends.
"I know you're siting there waiting. I'm with you in prayer."
"No matter what, we're with you and we love you."
With each reminder of truth, my spirit calmed. The truth provided courage to walk through the door and face the answers without fear or panic, because I remembered Who walks with me, no matter what answers the doctors gave.
We never know when something might knock us off our feet. We never know when fear, anxiety, panic, or trauma might strike.
That's why I urge you to build a truth survival kit. When the lies come, when you're tempted to slip into despair, show the enemy and his lies Who's the BOSS.
[tweetherder]Build a truth survival kit using B.O.S.S.[/tweetherder]
When we lived in Florida, we had a hurricane kit ready in case of a storm. So my friends, why not have a truth kit ready for life's storms?
[tweetherder]A truth kit will help you stand firm in the storms.[/tweetherder]
Build a truth kit using B.O.S.S.
[pinit]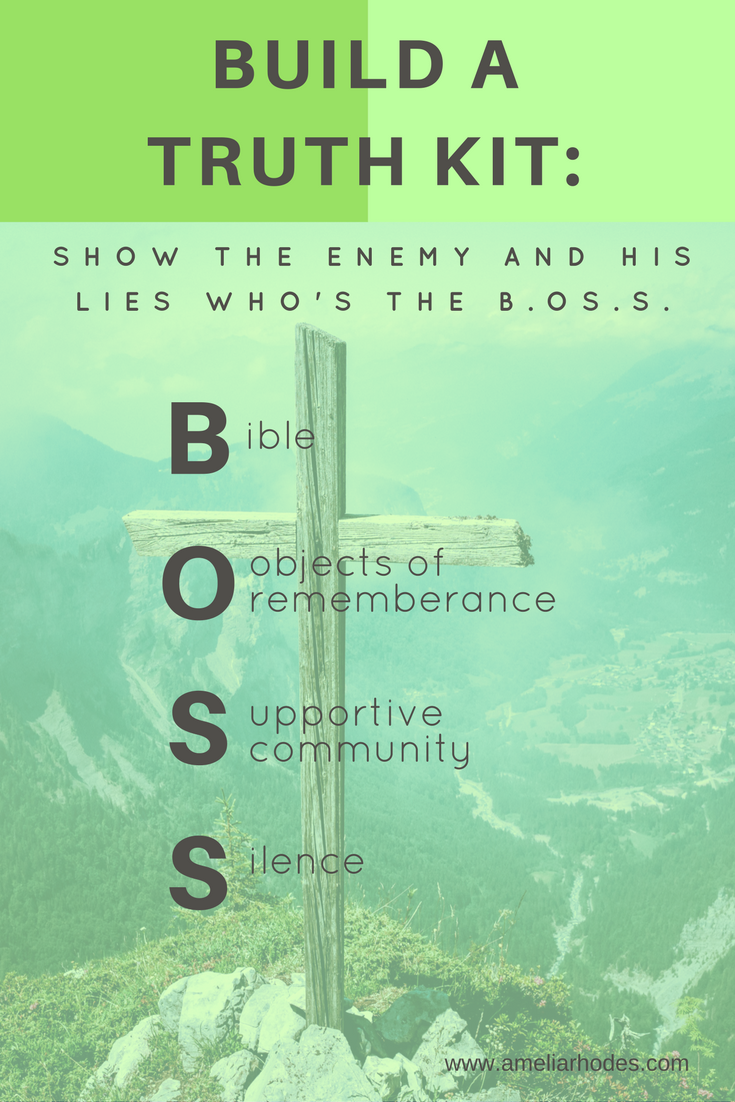 Bible
Read, Study, Meditate (think deeply about it), and Memorize it.
[tweetherder]Be in the Word every day and know it![/tweetherder] You'll be amazed at how just the right phrase or word will come to mind when you need it. That's God's Spirit bringing His truth to mind (John 14:26)
Carry a notebook with you to write down verses that apply to things you're struggling with. Open it and read the verses out loud when you feel yourself slipping into despair, discouragement, or doubts about God's care for you. Or start a note on your phone!
Download a Bible app (such as YouVersion or Bible Gateway) on your phone. Highlight meaningful verses to your situation.
Join me as we read through the Gospels through December. Find the reading schedule and daily posts on my Instagram www.instagram.com/ameliamrhodes and Facebook pages: www.facebook.com/ameliarhodeswriter
Objects
[tweetherder]Find objects that will remind you of the stories of the faithfulness of God in your life.[/tweetherder]
God periodically instructed the Israelites to pile up rocks so when future generations would ask about the rocks they would recount the story of God's faithfulness in that situation (see Joshua 4:1-8). Find your own "rocks" of remembrance.
Support
Surround yourself with friends who will speak the truth of Scripture to you in times of distress. Be open with your friends and let them know your struggles.
Also, [tweetherder]be the kind of friend who is able to speak truth-filled encouragement [/tweetherder].
Silence
[tweetherder]Build regular routines of silence into your life.[/tweetherder]
Often beating the lies means listening to God's voice, which requires stillness and quiet. (See 7 Ways to Build Silence into your Day)
How have the Bible, Objects of remembrance, a Supportive community, or times of Silence helped you hold onto the truth in challenging times?
Leave a comment below, and I will send one reader a 3×5 notebook filled with some of my favorite truths.
Resources to help you grow in truth:
Live Full Walk Free with DVD: Set Apart in a Sin-Soaked World (InScribed Collection)
by Cindy Bultema – a study in 1 Corinthians jam-packed with truth!
My Utmost for His Highest
  – my favorite daily devotional, or read it online at https://utmost.org/
Pray A to Z: A Practical Guide to Pray for Your Community
by yours truly – filled with Scripture and truth for each hard topic we face.
*Affiliate links used in this post.