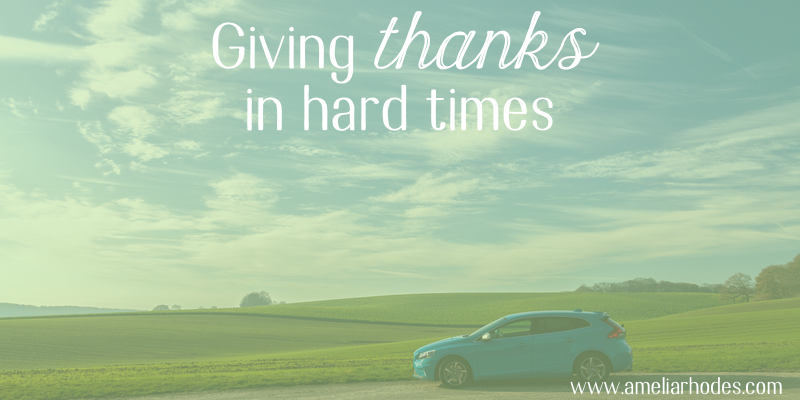 My husband walked around my car, hunched down on his knees, then stood up with a sigh. "You need tires. At least 2. Maybe 4." He lightly kicked the one in front of him for extra emphasis.
On the hour drive home from my grandma's place that afternoon, the car had sounded unusually loud, and felt  a bit wobbly. In total mom-mode, I had powered home with my two toddlers in the back seat.
We exchanged looks over the roof of my car, and I felt the financial weight sitting on my shoulders. Money was so tight that often in the days leading up to a paycheck I would stare at the nearly-empty cupboards hoping for inspiration for what to do with a can of mushrooms and a few slices of bread. I had even found a website that was like a virtual recipe spinner. You could enter the ingredients you had on hand and it would provide recipes to make with your meager ingredients.
The week before, when I had put in my few ingredients the screen had flashed: "You need to go to the grocery!!"
No kidding.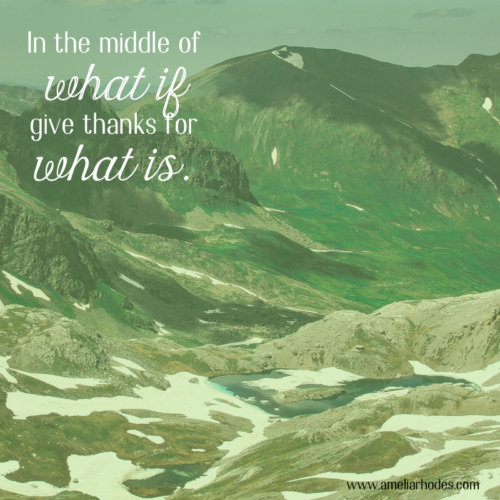 The morning after the tire-kicking-conversation, I sat in lobby area of the Sam's Club auto service department with my two busy toddlers, waiting for new tires. Just how every young mom wants to spend her morning: keeping toddlers from licking the floor or in general not destroying the store.
When the clerk finally handed my keys back and slid the paperwork across the desk, he looked me in the eyes and said, "You're really lucky one of those tires didn't blow on the highway. Don't let them wear down that thin again, ok?"
I mumbled a weak ok, feeling liked I'd been called out by the principal. I kept my eyes down, grabbed my keys, gathered the kids, and headed home.
If only it was that easy. It's not. When the choice is groceries or tires, you put off tires as long as you can.
That evening at dinner, we thanked God for the new tires and for keeping us safe on the highway the day before. I knew it had been a close call, and I found myself once again frustrated at the lack of money, lack of sleep, lack, lack, lack.
All I could see was lack. Old furniture. Worn clothes. Old cars. And now even less money thanks to the tires.
That evening, my toddler daughter thanked God for the new tires in her bedtime prayers. It was cute to see her mimic our dinnertime prayer.
The next night, she thanked God for the tires again.
And the next night. And the next, and every night for the next two weeks.
By the third night, I was annoyed at what I deemed was stalling to get to bed. But then God prompted my tired heart to see deeper: the simple faith of a child giving thanks in all things.
She didn't know how hard everything was for us at the time. She didn't see mushroom toast for dinner as a bad thing. She simply saw the blessing: new tires that would keep us safe the next time we went to Grandma's.
[tweetherder]When all I saw was lack, she saw the gifts.[/tweetherder]
During that season, I began to understand the practice of giving thanks, especially in the midst of struggle and less-than desirable situations.
Paul teaches us in 1 Thessalonians 5:18:
Give thanks in all circumstances; for this is God's will for you in Christ Jesus.
Notice the author doesn't say give thanks FOR all things, but IN all circumstances.
[tweetherder]I learned in the middle of What If, to Give Thanks for What is.[/tweetherder]
In the middle of the frustrating, heart wrenching, and devastating, we can give gratitude for what is. Whatever that might be – from still having a roof over your head, to food on the table though it be meager, people who love you and haven't abandoned you, to a gracious, giving God who promises to never leave us or forsake us. .
[tweetherder]Offering gratitude turns our focus from frustration to thankful.[/tweetherder]
Giving Thanks in Hard Times: Sunlight Burning at Midnight by Jessica Ronne. (Giveaway)
I met author and speaker Jessica Ronne last month at the Breathe Writers Conference. I  had been following her on Instagram, and instantly fell in love with her sweet spirit and wisdom.
In her memoir Sunlight Burning at Midnight, Jessica shares with a rare honesty and authenticity about the heartache and hope she has experienced: from a terminal diagnosis for her unborn baby and the advice to abort, to the decision to continue the pregnancy and trust God, to the collapse of her young husband a few years later and another terminal diagnosis – his brain cancer.
Through it all, Jessica clung fiercely to God, and allows us a look into heartache, loss, and the ultimate healing and hope we have through Christ. Hers is a story of faith that stands strong and can give thanks, even in the most challenging situations. It's a story of hope and new life, even when that life may not be what we had originally imagined. It's as unexpected and beautiful as sunlight burning at midnight.
Jessica has graciously offered a copy of her book to one of you. To be entered, leave a comment below. Her story is captivating, and I nearly read it all in one sitting because I couldn't put it down. I think you will enjoy it too.
Jessica Ronne (MA in English, Grand Valley State University; BA in Secondary Education, Calvin College) recently completed her master's degree; it only took her nine years. She's married to her best friend, Ryan, who puts up with a lot from her, as do her children who have the unfortunate reality of growing up with the most introverted mother in the world-proof that God does indeed have a sense of humor. Favorites and hobbies include pizza, wine, and goat cheese. Once upon a time she taught school. Now she writes random, irrelevant, humorous, chaotic, and hopefully inspiring musings on life including love, faith, widowhood, remarriage, adoption, handicapped parenting, eight kids, and simple living, all in the hills of Tennessee. Follow her ongoing saga at www.jessplusthemess.com.
When was time you gave thanks in the midst of a personal hard time? How did giving thanks change your focus? And if you're in the midst of a hard time now, we would love to pray for you. Just leave a comment, you don't have to share details if you're not comfortable, just say "please pray for me" and I will.
*Affiliate links used in this post.
Photo Credits:
Save
Save