I'm excited to introduce you to my friend Jessie Clemence. I first met Jessie a few years ago at a writers conference. Not long after, we ended up on the planning committee for said conference together. We worked through some nerve-wracking, stressful situations. (Conferences are not easy to plan! Especially when you want to do everything with God-honoring excellence!)
For a couple years, I had the opportunity to observe Jessie's heart for God and for people, along with her devotion to the Word and to prayer. She has written a powerful (and yet humorous) book I Could Use a Nap and a Million Dollars: Biblical Alternatives to Stressed Out Living. We will wait right here while you go order it. I laughed, I cried, I thought deeply about the things that stress me out, and I made some changes after reading Jessie's book. I think you will enjoy it too.
Be sure to enter the giveaway for a copy of her book at the bottom of this post! Now, here's Jessie: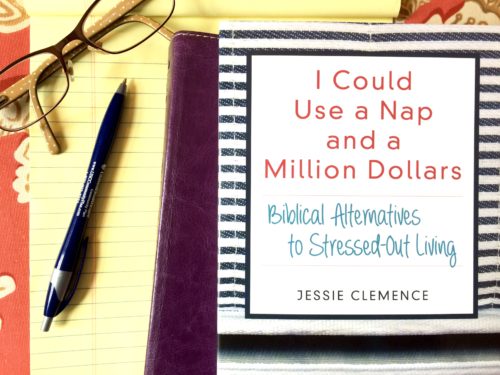 I have become, somewhat by necessity, an expert on the subject of stressed-out prayer. This is what happens when your life is a stew-pot of problems but you also love Jesus.
You end up praying A LOT.
I've found that I tend to pray two different kinds of prayers. One of the ways works beautifully, but the other way falls flat every time.
The failures usually involve demands for God to fix my problem right this very minute. And he can fix it the way I want it fixed, thank you very much.
You will not be surprised to learn that God doesn't respond to my bossy, crabby ultimatums in the way I hope.
It took years of failed prayers, but I finally found a better way to approach God in any stressful situation. And I've learned that it doesn't matter much what words I pray, but my heart, attitude, and perspective do matter.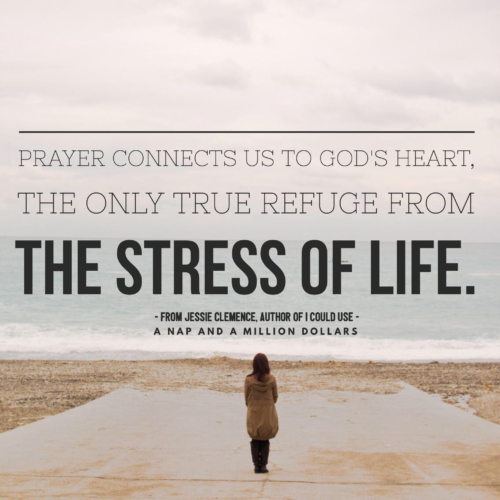 Whenever my heart is open to God's provision and guidance, no matter what his answer may be, peace comes. Rest follows. Prayer connects us to God's heart, the only true refuge from the stress of life.
Once my heart is genuinely seeking his presence and guidance, almost any prayer will work. At my most stressed out, my petitions tend to be very short and to the point:
Lord, turn me from my own perspective. I want to see this how you see it.
Jesus, help me to find the abundant life you promised. I don't see it here and I need you.
Father, I submit to you in this situation.
And occasionally—
Father, Son, and Holy Spirit I've gotten myself into a mess again and I'm so upset my eye is twitching and please help me out here because the sky is falling and HELP.
So far even that last one works when my heart is open and seeking refuge in whatever God allows. Apparently God isn't perturbed by stressed-out run-on sentences.
What about you? How do you pray when you're stressed out? I'd love to know! Leave a comment below to be entered in the drawing for a copy of the book.
For bonus entries, share this post on social media and let us know in the comments. Contest will close Sunday, March 4. 
Find I Could Use a Nap and a Million Dollars at Baker Book House, on Amazon, or wherever books are sold!
Bio:
Jessie Clemence is a writer, wife, mother, and church secretary. Her third book, I Could Use a Nap and a Million Dollars helps women everywhere find God's peace in the middle of their stressful lives. You can find her at jessieclemence.com.
Header Photo Credit: by Luiza Sayfullina on Unsplash
Other credits: supplied by Jessie Clemence