[pinit]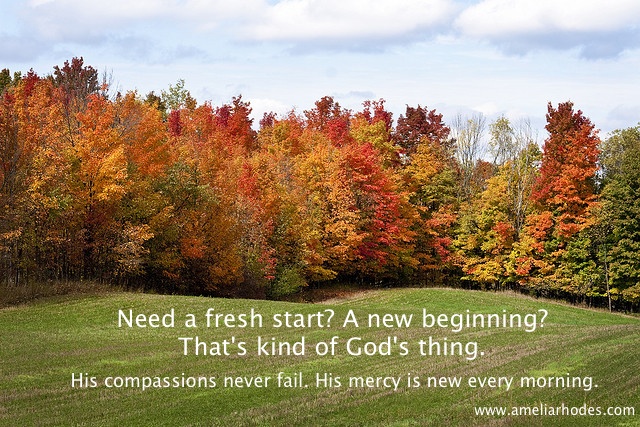 Fall has always been one of my favorite times of year.  For me, September has always felt like the time for new beginnings and new resolutions, more so than January. It's a season of making new friends and re-connecting with old ones, whether at school, church, Bible studies, book clubs, or the countless other activities that start up in the fall.
As a child, each fall I thumbed through 3 ring binders filled with crisp, lined paper and imagined the stories and papers I would write, the discoveries I would make, and how I would change and grow in the coming year. The possibilities seemed endless – unmarred by conflict and mistakes and not living up to my own expectations.
A fresh start.
Who doesn't need that? 
God seems to be in the business of new beginnings too.
Yet this I call to mind
and therefore I have hope:
 Because of the Lord's great love we are not consumed,
for his compassions never fail.
 They are new every morning;
great is your faithfulness.
 I say to myself, "The Lord is my portion;
therefore I will wait for him."

Lamentations 3:21-24
A fresh start every morning. How I need that! Especially in the season of trying to get everyone back into the routine of early bedtimes, early wake up calls, the discipline of homework, and for me the regular routine of writing and blogging and housework and new projects. It seems I'm always running short – on time, on patience, on skill.
But God grants us a new beginning each day. I don't think that his compassion runs out at midnight and starts over in the morning. I think this is just a reminder that each new morning He grants us a fresh start. We don't need to hold on to the failures of the previous day. He's not holding yesterday over our heads, so there's no need for us to hold it over our own head.
Let's start over. Shall we?
I'll be back Monday full of fresh stories. I'm returning to my first love here – lots of stories from the every day and how I see God connecting the dots sometimes.
I hope you'll join me and share your own pieces of story as well.
Happy weekend!