Thank you all so much for your wonderful suggestions for celebrating the milestone of turning in the final book edits. I loved hearing how you celebrate special events in your lives. I am tucking away all of your ideas for future use!
I had a hard time choosing a winner, so I picked two! I don't "get out" much, and Andrew's suggestion for a coffee shop hop sounded so fun. I've been wanting to visit a couple hip coffee shops in town.  I'll be sure to report how the adventure goes!
The second winner is Caye for her suggestion of starting a rock collection and writing the significant moments on them. This reminded me of the passages in the Old Testament (like) where God instructed the Israelites to build a memorial out of stones so every time they would see it they might remember His great acts on their behalf. Congratulations to you both!
I also asked the kids how they thought we should celebrate. Little Miss had a fantastic idea.
Her eyes lit up and she bounced in her seat as she said, "We should bake cupcakes and give them to the neighbors!"
We have great neighbors. Over the past year while I've been working on this project, they've watched me stumble to the bus stop and seen my light burning late at night. They've been encouraging all along. And when Kedron was in the hospital a couple weeks ago, they reached out offering to help and checked up on him when he returned home.
Yes, we have much to celebrate in our neighbors.
But of course, no adventure is without mishaps in our house. We went to the store right away and she chose a yellow cake mix . Then we got the idea to make the cupcakes look like the little cupcakes on the book cover. So we tossed some chocolate frosting and little maraschino cherries into the cart too.
Back home in the kitchen, I divided the duties evenly between Little Miss and T-Rex (heaven forbid she gets to mix 3 things in the bowl and he only gets 2!). The mixer was whirring. The oven beeped that it was preheated. I sprayed the mini muffin tins. All tasks were running smoothly. Then tragedy struck. As we were pouring slopping the cake mix into the pan, I noticed a clump of gray in the mix. I pulled it out, and inspected the small strip of gray. Then I found another piece of gray. And another.
That's when I realized I let T-Rex dump the cake mix into the mixer without inspecting the bowl first. My mixer sits on the corner of my most used counter. I'm scared to think what might have been in that bowl. Potato peels from dinner prep, dust from the cabinets above, or some random item that fell out of the cupboard overhead.
T-Rex looked up at me and with a finger holding an unidentified gray object dripping with yellow cake mix said, "It kind of looks like fuzzies from the box!"
I sighed and told the kids, "We need to dump this and start over."
"But we'll have to go back to the store for another cake mix," Little Miss said.
My shoulders slumped as my energy for this celebration gig waned. "Yup." I walked to the sink and poured the clumpy cake mix down the drain.
After dinner we made a second trip to the grocery store for another box of cake mix. This time, I thoroughly washed and inspected the bowl and muffin pan and all utensils.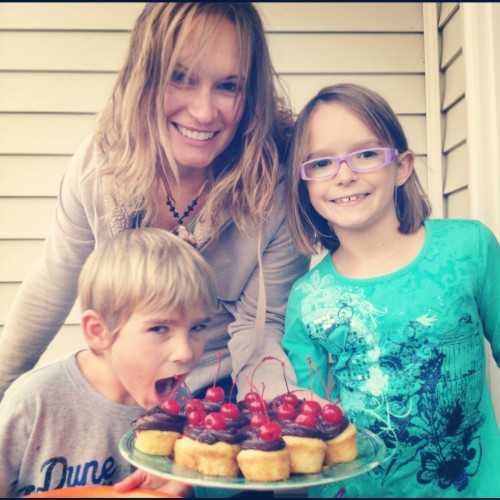 By the time we finished the second cupcake batch, it was late and raining. In fact, over the past couple days the clouds that were dehydrated all summer long have overflowed.
So our delivery had to wait a day, but no rain would ruin our parade!
We rang the first doorbell, and the kids suffered a sudden attack of shyness hid behind my back. The neighbors came to the door and I announced that we had baked cupcakes and would like to share. And seriously, who could turn down mini cupcakes from these two cuties? The kids passed a paper plate through the doorway and with surprised smiles the neighbors filled the plate. After we walked down the sidewalk from the first house T-Rex said, "You forgot to tell them why we're celebrating! You have to tell them about your book!"
Melt. My. Heart.
"Yeah, you have to tell them that these look like the cupcakes on the cover" Little Miss chimed in.
I was happy just to share cupcakes and smiles. But the kids pushed me to explain why at every house.
My kids know how to celebrate. I'm learning from them.
And I have a few more cupcakes to ice. We ran out of chocolate frosting.