Have you ever thought to yourself, "I should call that person or send her a card…." and then the thought passes and so do the weeks? Then a few months later you find yourself cringing as you think again, "I should call that person or send her a card…." If you're like me, you mean well, but life has a way of crowding out those good intentions. I've found that having a set time each month to think over the people in my life, with the purpose of following through with practical acts of encouragement, helps me turn those good intentions into action.
I call this the D.E.E.D — Drop Everything and Encourage Day.
I invite you to join me for a monthly encouragement prompt.
Whether it's an e-mail, a text message, a card, a letter or a phone call – in just a few short moments you can make a long-term impact on someone's life. Let her know she's not alone. Remind him that he is still loved. Let someone know how much you care. Like a small seed that grows a plant that bears much fruit, God can use your small seed of encouraging words to grow much fruit in the lives of others.
On the first Monday of each month, I'll post four new encouragement prompts. You certainly aren't limited to these, but these prompts can be a springboard to help you think through the people in your life who could use a good word.
April's Encouragement Prompts:
1. A friend grieving – Think back over the past 6 months. Who has lost a loved one? Cards and encouragement pour in during the first few weeks and often trickle off over the months.
2. An ill friend – Who has had a recent diagnosis or is struggling with a long-term illness – whether it be physical or mental?
3. A friend searching for work – Who has lost a job, whether recently or awhile ago, and is on the hunt for work?
4. A friend recovering – Who has had a recent surgery or injury or accident?
Take a moment and write down 4 names. Next to each name note how how you will encourage each person (card, e-mail, text, phone call, etc.). Then pick one and start today!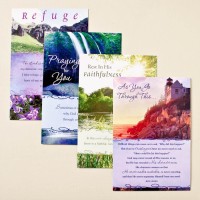 Together, let's invest in the lives of those around us!
Are you with me? Who's ready to start sowing seeds of encouragement into the lives around you? Who's ready to not let those thoughts slip your mind and turn them into practical acts of love?
If you're joining me in the encouragement prompts, leave a comment below, and I will draw one of your names to win this pack of Encouragement – Bold Promises cards from Dayspring. I've used these cards and absolutely love the messages on each one.
I'll draw from the comments next Monday the 8th!