My birthday is this week, and I'll be 38. Through my 30's I've found my true-er self and callings, and I fall in love with life a little more every day.
So, in honor of 38, here's 38 things that make me happy (in no particular order).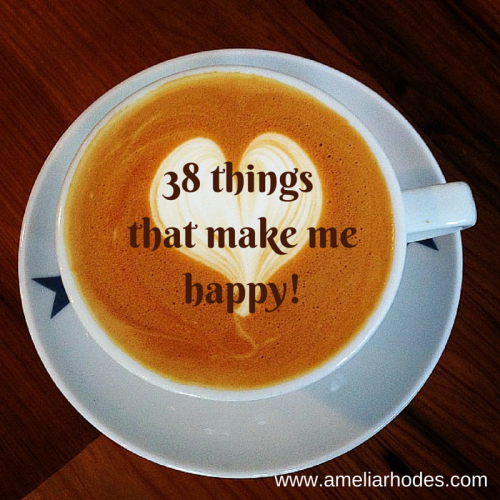 1. Coffee. With cream. Seriously. I even wrote a book themed after coffee!
2. Friends. I'm blessed to have accumulated friends from every phase of life. Loyal, loving people who mean the world to me!
3. Working on projects with Kedron. Over the past few months as we've partnered together on Pray A to Z, I've been reminded all over again what a great team we make. When he said, "Let's treat this like I would treat a project with a client," I nearly cried. He's so talented! (Wait until you see the new cards we'll have available soon!)
4. Breathe Christian Writers Conference. For the past 3 years, I've volunteered on the planning committee. Watching this conference grow, meeting incredible writers from across the country, serving with the committee, it's a highlight of my year.
5. Speaking. I grew up on the stage performing with my magician Dad. For 15 years, I accepted communicating from a stage was over. When God began opening doors for me to speak to women's groups, I was humbled how He gave this gift back to me. After every event, I leave whispering, "Thank you God!"
6. Clearing out my craft stuff. I love crafts. But as I followed my passions for writing and speaking, I hardly crafted. Clearing out my basement and letting go of those things was hard, but freeing. I donated much of it to a fantastic organization. I feel good knowing someone else is using it as a blessing, rather than it sitting in my basement.
7. Italy. I had never thought about visiting Italy. Last year, I had the opportunity to tag along and travel with Kedron to Italy for his work. The country is so beautiful and rich with deep, ancient history. I'd love to go back one day and spend more time exploring.
8. Being Mom to a boy. I was nervous about having a boy. He's hilarious, daring, and quick-witted. But he's also sweet and cuddly. I had no idea boys could be like that.
9. Being Mom to a girl. I feel so fortunate to mother a daughter too. She's 10 now, and has a deep spirit and love for God. She's also a lot like me and keeps me on my toes.
10. Sharing my favorite books with my kids. Little Miss read Anne of Green Gables recently. I kept asking her what was happening and what she thought. When she walked out of her bedroom with huge eyes and said, "I like Anne! She talks a lot!!" I knew I had a fellow Anne-lover.
11. Baker Book House. My most favorite bookstore ever. Friendly and helpful staff, and lots of fun events!
12. A good pen. As much as I love my Macbook, I still love writing with paper and pen.
13. My crockpot. I'm an ok cook, but dinnertime is my kryptonite. My crockpot saves lives.
14. This slow cooker cookbook from the American Heart Association. Kedron ordered it in order to stay on top of his bad heart genes. Fish, in a crockpot. Seriously, even the kids loved it.
15. My local coffee shop. I sat there for 7 hours Friday. I love the owners, customers, food, and everything about this place!
16. My new glasses. I've worn contacts since the 8th grade. I never, ever wanted to go back to glasses, but old age has other ideas. The optician picked these out, and I like them.
17. Florida. We lived there for 5 1/2 years, and a piece of me will always reside there.
18. My Bible. It amazes me how I can read it over and over and learn something new every time. I have one with the NIV and MSG versions side by side.
19. BibleGateway.com. While I love my paper Bible, I also love using the tools on biblegateway.com. I can search a phrase, and it always finds the right passage for me.
20. Storytelling for kids. I volunteer as a storyteller for the elementary program at our church, and as a co-leader for two-year-olds for an area Bible study. Taking truths from the Bible and distilling them to the main points for kids helps me learn. Plus, they are just a LOT of fun to teach.
21. Reading good books, especially ones written by authors I know. Here are my favorites from 2013 and 2014 and my Goodreads.
22. Running. I never, ever, ever would have dreamed I'd run one marathon, let alone 3. Running has been a lesson in discipline, perseverance, mental battles, and discovering I'm capable of things I never thought possible!
23. Over easy eggs with a side of toast. Dip the toast in the runny yoke….yum. My favorite breakfast.
24. Scarves. Lots of scarves. They're a necessity here in Michigan. Big warm fuzzy scarves. And bright colorful ones for spring and summer dress up a plain t-shirt.
25. My Merrell boots. I finally broke down this winter and bought good boots. It's nice to have dry and warm feet.
26. Knee length wool socks. Again, it's nice to have warm and dry feet.
27. Sensodyne toothpaste. Oh the things we love as we get older. Seriously, that tooth with the slightly exposed root? Doesn't hurt anymore.
28. Bible Study Fellowship. This is my 7th year going through their studies. I've made some great friends. I thought I knew a lot about the Bible, but I'm amazed at how much I learn each year through these studies.
29. A cash budget. It's done wonders for our finances (when it's gone, it's gone; no overspending). Whenever a credit card machine is down, I can still get my goods. Not to mention, no worries of identity theft and who might hack into a store's files.
30. My chiropractor. Fifteen years ago, I suffered severe neck pain, and I often woke up with a stiff neck. Monthly visits keep me pain-free, and he's kept me running through three marathons, even when I've popped ribs out of place.
31.Vitamin D. My doctor discovered I was severely deficient about five years ago. She prescribed a high dose which I take every day. Not only do I have more energy and not suffer the blues as much, I never get colds.
32. Netflix. 'Nuff said.
33. Parents (and that includes my in-laws) who support us in everything. My Mom wrote me the sweetest note about how Pray A to Z had impacted her. Made me cry. When Kedron had cancer, they dropped everything to stay with us for the week of his surgery and help take care of the kids. My in-laws did the same. They also printed out copies of the Pray A to Z cards for everyone in their small group. These four (and what a joy – they are all friends!) bless us so much.
34. Siblings, by birth and marriage. We had so much fun with my brother and his wife over Thanksgiving. And my husband's siblings have given us so much practical help through the health challenges we've faced in recent years.
35. My writers group. I learn so much from them. I prayed about starting a group for two years. What a joy to have sojourners on this path!
36. Lindy's stainless steel popcorn maker. I bought this for Kedron for Christmas. Best popcorn ever, especially when we use Yoder's popcorn.
37. Meijer Gardens. Year-round, this place is filled with beauty and amazing art.
38. You, my readers. I love the conversations we have here, on Facebook, over e-mail, on Twitter. I learn from you, and I treasure your time and friendship.
What are some things that make you happy?