I've sat down at least six times over the past 2 months to finish writing this post. But the words are hard, and don't flow.
I have 3 succinct points, and they even rhyme: Trust, Obey, and Don't Delay.
If only it were that simple. Just trust God, do what He says, and do it right away.
While those 3 points are important and true, they are anything but simple. Or easy. They're incredibly uncomfortable. And I'm finding how terrible I am at following through with them.
Do you trust Me?
That was what I heard when the reality hit that we had sold our house and had no idea where we were going to live next. You can catch up on the first half of the story here in Part 1.
Of course I trust You, God. That's the whole reason we sold our house. We're following Your call to simplify and live with less so we have more time and money and energy to serve You.
Do You trust me?
Yes, I trust You. I trust that You'll take care of my needs wants. I mean, after all, I just signed a book contract to write a book on prayer. It's not like You're going to allow my life to get too complicated and overwhelming right? After all, I have to write a book…on prayer!
Go ahead. Finish laughing.
We were comfortable. We could have easily stayed where we were for years to come. But then we came to this realization:
[tweetherder]God does not call us to be comfortable.  He calls us to be conformed to Christ.[/tweetherder]
Ouch. I like being comfortable. And I like being in control.
Yes, God I trust You.
I really didn't want to move into a rental. I wanted a nice, easy transition into the next house. The trouble is, we live in a very small town and there were exactly 4 houses on the market in our defined price range.
The days ticked off the calendar and nothing. Absolutely nothing.
Where are you, God? We need a place to live!
I started packing and stacking the boxes by the front door, in faith that God would provide a house to buy.
I began to obsessively check Zillow ten times every day. It became a reflex reaction. Pick up the phone, swipe open the app, no new listings. A half hour later, check again.
I just knew, the perfect house was going to appear at the last minute. So I checked every minute.
I slowly began to expand the parameters. Well…maybe God really planned for us to look at this big, red farmhouse that's 8 miles outside of town and on a few acres.
It had a meth grow-house in the basement.
Well….maybe God meant this fixer upper on 5-acres just a few miles outside of town. It's outside our price range, but what a steal! Think of the prayer meetings we could have in the pole barn!
Yes, I really thought that. And I meant it.
We bid on that house. They accepted.
I was ecstatic. God was working it all out. This was going to be an awesome story to tell.
Just not the kind of awesome I had hoped for.
We went on the already-planned vacation to Florida for Thanksgiving. The offer was accepted, and I was ready to visit our Florida friends, come home refreshed, and then finish packing our household for a December move.
Then the inspection happened. While we were in Florida.
The list was long, which we expected. It was also expensive, which we kind of suspected. We just didn't expect so many expensive fixes.
We spent Thanksgiving Day trying to decide. Do we or don't we?
Then Kedron stated the obvious. "This is outside the initial plan we felt drawn to. It's not in town, and we wanted to be part of the community, buy a house in town and make it better. This doesn't get us closer to debt free. It's also not simpler."
He was right. Again.
We withdrew our offer.
We came home November 29, knowing that closing would probably happen before Christmas.
We began to look for rentals in the nearby large city. I asked the school how it would work if we moved out of district for six months, even picked up the paperwork. We looked at apartments and houses online, searching for anything.
I had no idea it was so hard to find a place to live. We were both gainfully employed, with just 2 children, and no pets. Yet finding an affordable rental was nearly impossible.
I was starting to hit panic mode.
A couple friends, including my boss, offered their basements and spare rooms.
I kept praying.
Do you trust me?
Yes, ok. But couldn't you make it a little easier, God? That would work great for your marketing plan. Make things simple, easy, predictable. It would be a lot easier sell to get people to trust you!
The first week of December, where usually a freshly cut Christmas tree would stand tall, branches laden with decades of home made ornaments, a tree of boxes stood. No ornaments. Nothing on the walls.
Then we saw a rental show up in the real estate listings. It was 900 square feet, 2 bedrooms, 1 bathroom, the first floor of an old home renovated into a 2-apartment unit.
I called and walked through it over lunch break one day. I could even walk to the house from work. Kedron said if it was remotely decent to go ahead and fill out the application.
It was cozy, but it would work. One of my biggest concerns through the whole process was signing a lease. We knew we probably wouldn't need a year lease. Once houses started popping up for sale in the spring, we intended to buy.
I inquired with the leasing agent about a 6-month lease. She seemed to think the owners would be willing because no one wants to try to rent out a house in December.
We signed a 6-month lease on Monday, December 7, with the gracious option for 2 extra months if we need it. We closed on the sale of our house on Friday, December 11.  We moved into the rental Saturday, December 12.
The owners of the home are a delightful couple. This place has been a blessing for us, and it was a blessing for them to have someone living in it for the winter. And while it's small, and there's nowhere to go to get some personal space (not even a yard!), we've relaxed into a place of trust and rest.
Four months later, there's still not much for sale. Realtors are saying they've never seen the selling season start so slowly.
I'm still learning to trust, obey, and not delay.
It's uncomfortable and unpredictable. I have no idea where we'll be living this fall. We have until September, and then we either need to be out of the rental or sign a year lease.
I've let go of all pretenses of what I think God is going to or should do. I've stopped trying to control or make the situation work out. We obeyed. We're following. We're waiting. And I'm stumbling, fumbling, and failing all along the way.
Maybe one day I'll be able to write about those 3 keys. Maybe one day it will all make sense–this wild adventure.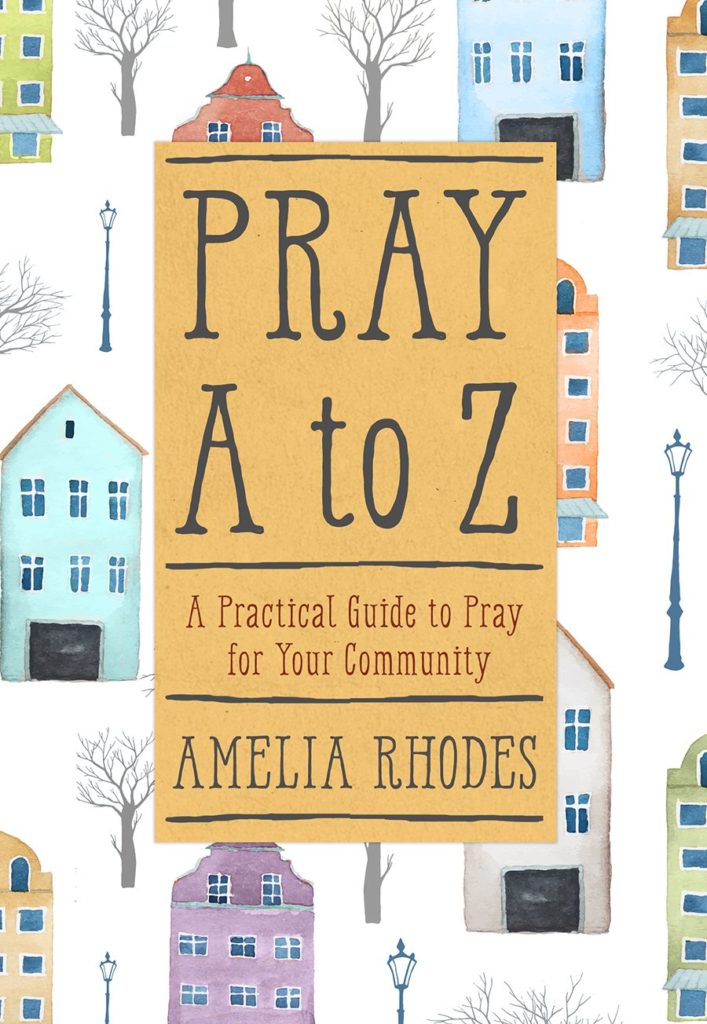 Oh, and I wrote that book on prayer while living in this little rental. I even made the deadline, despite the chaos of the move.
In fact, it's available for pre-order now: Pray A to Z: A Practical Guide to Pray for Your Community.