I followed the ultrasound technician down the hallway, and hugged my arms to my chest in attempt to stop shivering. As we entered the small, fluorescent-lit room, she pointed me to the bed along the wall. Last time I did this, there was a baby in my belly. This time, a lump in my breast.
She waved to the chair in the corner, "Go ahead and set your things over there." Then her eyes scanned me head to toe. "Would you like a warm blanket?"
"Oh that would be nice. I guess I still have Florida blood." I joked about my years in the South as a diversion from the real reason I was shaking: nerves.
She covered my lower half with a fresh blanket from the warmer, and my body instantly relaxed. I ignored my exposed flesh and the pictures projected on the screen. Not that I'd be able to tell what the pictures meant. Instead, I stared at the ceiling tiles above my head.
As she exited the room to take my images to the radiologist and bring my husband in from the waiting room, I snatched a small book I'd brought with me off the chair: Prayers for Hope and Healing by my friend Sarah Forgrave.
Wrapped in the warm blanket and the truths from Scripture included in her book, I read the Scripture and prayer for "When You're Waiting for Answers."
Dear Lord, So many emotions are running through me right now as I wait for answers. When I think about the worst-case scenario, fear floods my mind. I worry about what it might mean not only for me, but for my loved ones. I feel paralyzed by the weight of it all. God please keep my heart calm in the midst of these fears. Rein in my imagination when it gets out of hand, and settle me in a place of trust.
My husband walked through the door and did a quick glance around the room. I could see the flashback reflected in his look.
"Been here before haven't you?" I said.
He looked at me with one corner of his lip turned into a smile. "Definitely looks familiar."
Four years ago, he was the one in the bed with the pictures on the screen as the ultrasound technician sought confirmation for the tumor in his neck. Within weeks he had his thyroid and the tumor removed. We survived that. We knew whatever they walked back in to tell me, we have a hope and a future secured in Christ.
The technician walked through the door with a smile on her face. "It's just a cyst. Those are always benign, and often will go away on their own. If it's painful, we can drain it for you, but otherwise we just leave it alone."
I hugged the little book to my chest as relief and gratitude relaxed my tense body.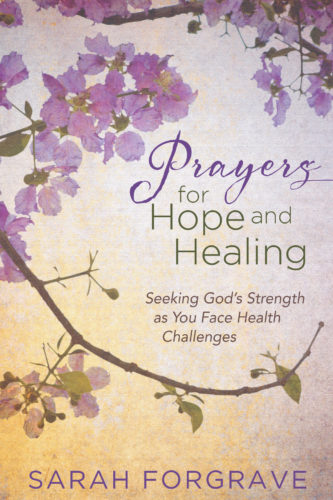 You never know when news will come that you or someone you love is staring down a serious illness. Sarah Forgrave has written an incredible truth-filled resource in Prayers for Hope and Healing: Seeking God's Strength as You Face Health Challenges. 
Here she offers 6 practical ways to pray for someone who is sick. Comment on this post, and I will draw one winner to receive a copy of the book. It's the perfect size to tuck in a bag or keep on a nightstand and would make an encouraging gift for anyone going through a health issue.
Practical Ways to Pray for Someone Who's Sick
Have you ever told someone, "I'll pray for you," only to realize later that you have no idea how to actually pray?
Especially when someone goes through a health crisis or chronic illness, it's hard to know what his or her specific needs are. Cancer, chronic pain, heart disease…the struggles are overwhelming and every situation is so different.
The good news is that God knows each need. You can pray a simple prayer, stating, "God, You know the need. Would You make Yourself real to my friend?" Then trust that He is listening and moving.
But you may find that you still want to pray in a more tangible way—to lift up your friend in specifics rather than generalities.
Whether you know full details of the situation or not, there are six broad categories you can cover in prayer. These are often taught as the Six Dimensions of Wellness[1], but they can be a powerful road map for prayer as well.
1. Spiritual Needs
– Ask God to strengthen your friend's spirit through this crisis.
– Pray that he or she would be drawn to seek answers in God's Word, rather than drowning alone in despair.
– Lift up your friend's prayer life, asking God to make His presence felt as your friend cries out to Him.
2. Social Needs
– Pray that your friend wouldn't feel isolated or alone and that he or she would show grace to those who may unknowingly say or do hurtful things.
– Ask for protection over your friend's family and home life as it's turned upside down during this time.
– Pray that even if friends and family turn away, your friend will find comfort in the presence of Christ.
3. Emotional Needs
– Lift up your friend's emotions, asking God to use them as a way to draw your friend closer to Him.
– Cover any anxieties or fears in prayer, asking that God would cover your friend with His peace.
– Pray that any depression wouldn't completely crush your friend, but that he or she would see a sliver of light in the midst of the darkness.
– Ask that any anger would be expressed in a healthy way, and that your friend would direct his or her anger toward the Savior in earnest prayer, rather than lashing out in harmful ways.
4. Occupational Needs
– If your friend works outside the home, lift up his or her job, asking God to give your friend peace that all tasks will be covered in his or her absence.
– Pray for provision as financial needs will rise and budgets may be strained.
– Lift up any occupations taking place inside the home, especially stay-at-home parents. Pray that your friend would be filled with peace and strength, and that family members would show grace and understanding.
5. Intellectual Needs
– Cover your friend's thought life in prayer, asking that he or she would continue to nurture it in healthy ways.
– Pray for your friend to have mental strength to learn whatever is needed to better understand his or her condition.
– Ask for wisdom and clarity as your friend navigates medical advice and instructions.
6. Physical Needs
– Pray for strength to get through the demands of today.
– Ask that God would help your friend feel comfortable in his or her own skin, even though it may feel foreign and scary right now.
– Lift up any urgent needs you're aware of, and pray that your friend will rely on God through it all.
This is just a small sampling of the needs your friend may face in his or her health struggle. If you want to expand on these ideas, let the broader categories be a springboard to brainstorm other needs your friend might deal with.
As you pray, remember to ask God to show you how you can demonstrate His love to your friend. Whether it's through practical help or a word of encouragement, let God's compassion flow through you to those who are hurting. He longs to use you if you'll let Him.
Bio:
Sarah Forgrave is an author and wellness coach who loves inspiring others toward their full potential. In addition to her book, Prayers for Hope and Healing (Harvest House, October 2017), her writing credits include contributions to The Gift of Friendship, Guideposts' A Cup of Christmas Cheer, and the webzine Ungrind. When she's not writing or teaching, she loves to shop at Trader Joe's or spend time with her husband and two children in their Midwest home. Visit Sarah at www.sarahforgrave.com, or at the following sites:
Facebook: www.facebook.com/AuthorSarahForgrave
Pinterest: www.pinterest.com/SarahForgrave
Instagram: www.instagram.com/SarahForgrave_Author
Twitter: www.twitter.com/SarahForgrave
Prayers for Hope and Healing back cover copy:
Amid Pain and Weakness…There is HOPE
Serious or chronic medical issues bring a litany of painful and confusing feelings that only someone else who's been in a similar situation could possibly understand. Sarah Forgrave has walked the difficult road you find yourself on. And she empathizes with the uncertain future you face.
No matter the road ahead, you don't have to face it alone. Even in the depths of your worst emotional and physical pain, God is right there beside you, offering His comfort, love, and peace.
As you read these heartfelt prayers and devotions, let this book be your manual to help navigate the difficult set of emotions that come with health issues. Read it front to back or go directly to the devotion addressing how you feel at any given moment…when you need it the most.
Above all, know that you are never, ever alone.
[1] Bill Hetler, MD, The Six Dimensions of Wellness Model (National Wellness Institute), 1976